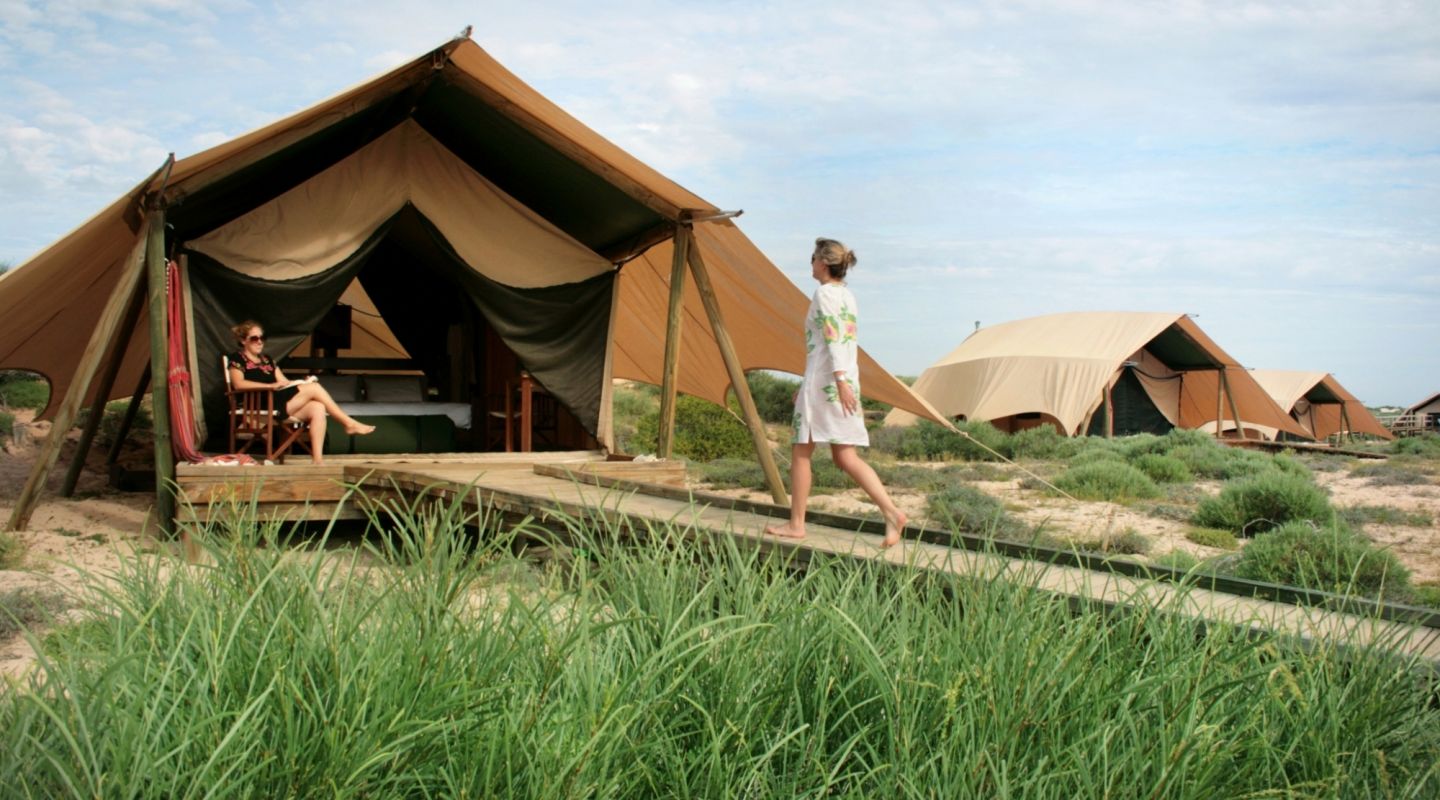 Western Australia
Sal Salis
Overview
Beach luxury under canvas
Tucked away in the dunes on the shores of Ningaloo Reef you'll discover the eco luxe Sal Salis camp.
The camp's 15 spacious wilderness tents are dotted among the sand dunes. Each is simple and ultra low impact, yet comfortably furnished with no distractions from the wilderness around you.
And what a wilderness it is. The reef, a UNESCO World Heritage Site, is home to hundreds of colourful fish and coral species where you can snorkel alongside rays and turtles. The chance to swim with whale sharks and humpback whales is a real highlight.
On shore, hike the rugged landscapes of the Cape Range National Park and you're likely to find wallabies finding shade on your tent's verandah. The star gazing is pretty special too.

Facts
At a glance
15 tents

Hammocks

Self service bar

Indoor and outdoor dining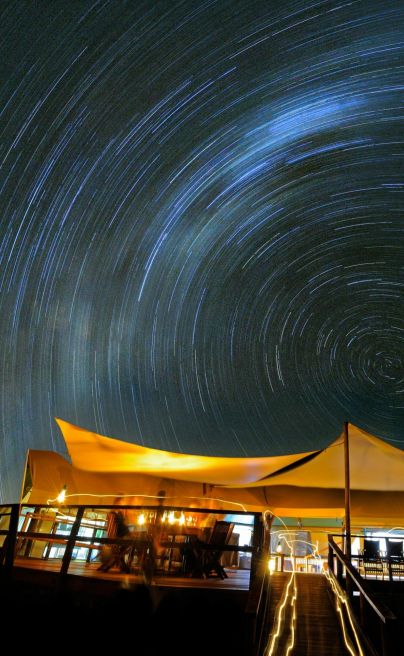 Experiences
Whale shark swim

Between mid-March and July these slow-moving giants migrate past Ningaloo Reef. Growing up to 12 metres or more, they feed mostly on plankton meaning that it is safe to snorkel in close proximity to them. This is the only place in the world where they appear regularly in large numbers and some 235 of them have been recorded. This experience allows you to get up close to them, and you may also spot turtles, dolphins, dugongs, rays and seabirds.

Humpback whale swim

The humpback whales put in an appearance on the reef between August and October. They are one of the largest baleen whale species and swimming beside them is truly a transformative experience. It is sometimes even possible to catch parts of the males' haunting songs in the water. Because they are continually moving, you need to be a confident swimmer and be able to snorkel and swim freestyle. The spotter will also look out for other marine animals for you to see.

Snorkeling

The World Heritage Ningaloo Reed extends for 260km along the west coast of Australia. The coral is within swimming distance, and the house reef is no more than 10m from the beach at high tide. There are various beaches offering drift snorkels, as well as sheltered bays where children can play. Snorkeling gear and wet suits are provided and the guides are on hand to teach beginners. Look out for clownfish, anemones, rays and hawksbill, loggerhead and green turtles. These turtles lay their eggs in the dunes at night between September and December.

Kayaking

Depending on the tides and weather, you might have the chance to take a kayaking trip across the Ningaloo Reef. It's a great way to explore the reef without interfering with the delicate ecosystem. Guided kayak-snorkels will take you further off shore where you'll have the opportunity to snorkel some of the deeper lagoons. This gives you the chance to see soft corals, sponges, wobbegong sharks and hundreds of fish.

Hiking

To avoid the hot afternoon sun, it is best to go for walks and hikes in the national park either first thing in the morning, or later in the afternoon. The guides can lead you through some stunning ancient gorges and ranges.

Mandu Mandu Gorge

Just 2km behind the camp you'll discover Mandu Mandu Gorge which boasts fossil-bearing limestone formations and stunning views over the Ningaloo Reef. Studies have revealed that humans have lived in the area for some 30,000 years. Over 100 sites of occupation have been discovered and the Baiyungu people still have a strong presence in the area.

Yardie Creek Gorge

Take a walk along the top of the breathtaking, multi-coloured Yardie Creek Gorge. Along the way, you may spot black-footed rock wallabies, honeyeaters and emus. On this walk you'll learn about how the range was formed and how the flora and fauna here have adapted to survive in the arid environment. There will be plenty of fantastic photo opportunities.
Community & Culture
As far as possible, Sal Salis uses products that are made locally. They are also committed to teaching their guests about the complexity and fragility of the Ningaloo Reef and the Cape Range ecosystems, spreading the message of the importance of coexisting with nature and conservation.
Conservation
Because Cape Range is a designated Dark Sky area, Sal Salis minimises night time light pollution as well as noise pollution. They do not have air conditioning, TV, Wi-Fi or mobile phone coverage. All of this, coupled with their other endeavors to be as unobtrusive as possible means that local animals feel safer to visit. Their light footprint also means that no lasting damage is done to the land. They use composting toilets and solar lighting and water usage is limited to avoid fresh-water run-off which encourages weed growth and can bleach the coral reefs.
Footprint
The structures at Sal Salis have been constructed in such a way that should they be removed the site will easily return to wilderness. As far as possible, plastic chemical containers are reused, and cleaning products are made of edible ingredients like vinegar and orange oil. A large percentage of the power at Sal Salis is solar generated, with back-up generators ti run the fridges on cloudy days. The low lighting and low profile lights used ensure that the hatching turtles on the beach are not impacted. All waste is sorted and recyclable materials separated before leaving camp.
The organic cotton linen is not bleached, and can hang dry, which means it does not need to be ironed. Laundry is done in Exmouth which reduces the use of water on-site and prevents run-off.
Example trips
Get inspired
Browse our example trips and get in contact to start planning your very own adventure.
Example trips

Get inspired

Browse our example trips and get in contact to start planning your very own adventure.
What makes us different
Why Niarra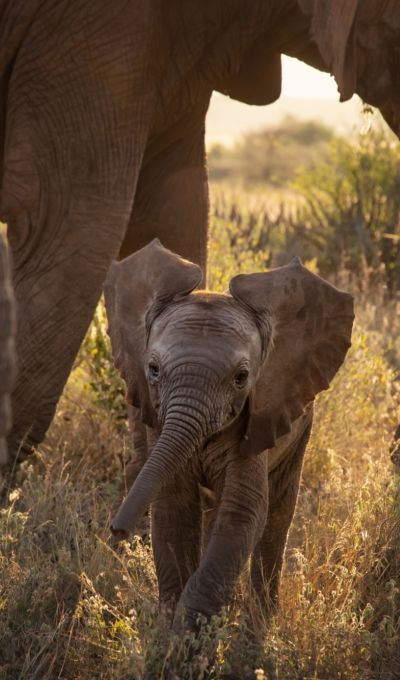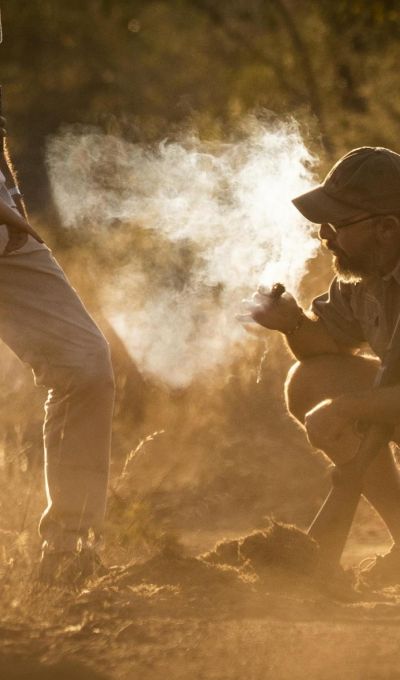 Niarra Travel is a forward-thinking travel company headquartered in London born out of a passion to do things differently.
In Swahili, a Bantu language spoken by millions in Eastern, Central and Southern Africa, the name Niara means "with utmost purpose" and our team are united by a passion for exploration and a belief that the right kind of travel can make the world a better place.
Our Travel Researchers are here to create incredible trips with a positive impact for you.
Unforgettable experiences

Creating your trip is entirely collaborative and our Travel Researchers are here for every step.

Positive impact

Curated sustainable experiences and accommodation that maximize the benefits to local people and place.

Fairness and transparency

An open, competitive pricing structure that ensures more money goes to where it's needed in the destination.