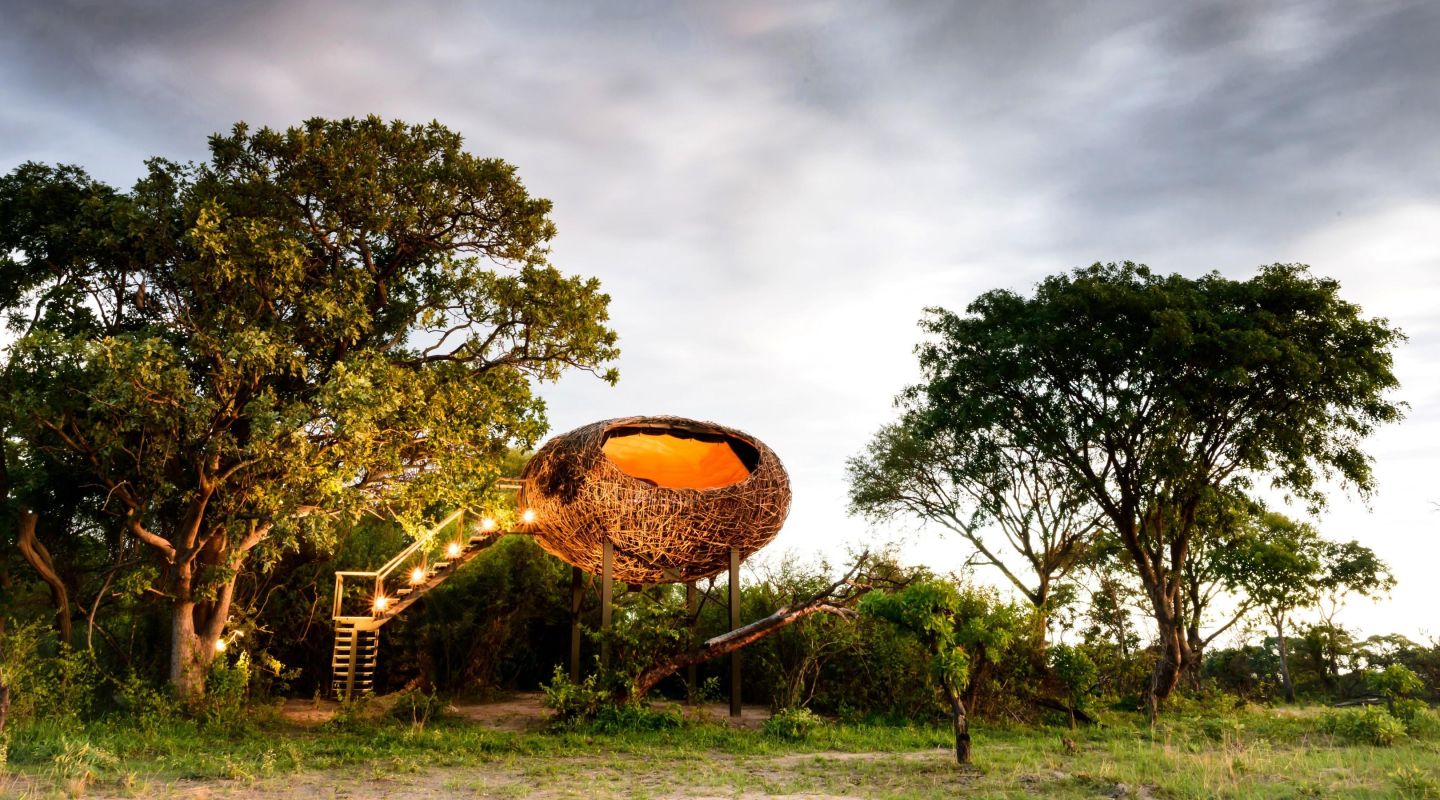 Kafue National Park
Chisa Busanga Camp
Overview
Nest in the bush
The Busanga Plains, in the remote north of Kafue National Park, is one of the most untouched areas in Africa. Flooded during the rainy season, the wetlands bristle with diverse wildlife once the waters recede.
Overlooking this immense wilderness stand Chisa Busanga's four weaver bird nest-inspired rooms. Each has an ensuite bathroom and a balcony from which you can watch elephants, lechwe and predators wander by. One room has a lift for those with mobility issues. Back on ground level, a swimming pool and tented dining, lounge and bar space also make the most of the views.
Completely off-grid and solar powered, spend your days exploring this incredible place on silent electric game drives, e-bikes and experly guided walks.
Facts
At a glance
Four nest rooms

Swimming pool

Dining and bar area

Electric game drive vehicle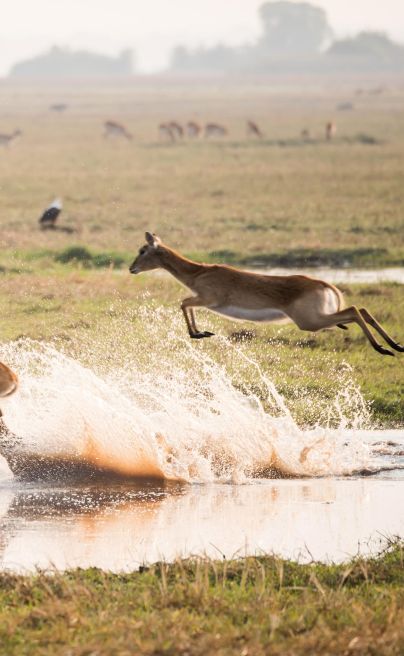 Experiences
Electric game drives

Blend into the quiet of nature in our e-Cruiser, which allows you to experience all the sights and sounds of the bush in near silence as you watch elephants walking through the mist at dawn, water-loving lechwe jump the streams, and a lions feed their cubs.


E-biking

Experience the wonders of Busanga quietly and at a comfortable pace from the seat of an electronic mountain bike, with an experienced guide sharing their knowledge of the bush.

Walking safaris

Slow down to nature's pace as your knowledgeable guide and armed scout leads you on a bush walk that immerses you in the natural beauty of Busanga Plains.

Conservation

Meet the people of Zambian Carnivore Programme and Panthera that research, manage and protect carnivores and their habitats.

Behind the scenes

Wander through the camp grounds and learn about its environmentally friendly practices, including the state of the art solar system, composting and recycling process, and how the lodge was built sustainably.

Community & Culture
Green Safaris was born out of a deep connection with Africa's untouched wild spaces and the wildlife and communities that call them home. A stay here contributes to Green Safaris' Conservation Foundation which supports a number of conservation, community, and environmental initiatives in the Kafue region.
Empowering local people through community development is a strong element that runs through Green Safaris' lodges and camps. In collaboration with the Zambian NGO By Life Connected, the foundation is implementing several projects in the closest community, such as building secondary school infrastructure in a sustainable way, installing a solar plant to power computer lessons and setting up a community farm.
Conservation
The foundation actively supports the Zambian Carnivore Project and Panthera, two organisations playing a vital role within the Kafue National Park that are dedicated to conserving large carnivores through a combination of research, active initiatives, education, and capacity-building. For example, the Green Safaris team supported the anti-snaring work of ZCP by upgrading and replacing equipment and supplies. And Panthera operates an anti-poaching unit in the Busanga Plains which is part funded by the foundation who have also contributed to the Panthera-managed radio network which is used all over the park for anti-poaching efforts.
Footprint
Green Safaris' properties have been designed and built in the most sustainable way, and to ensure they blend seamlessly into their specific habitat.
They have the all-electric 'silent safari' experience, with Chisa Busanga operating both e-bikes and electric Land Cruisers, all charged with its solar farm.
Chisa Busanga is run completely off-grid, designed in a way design maximising natural airflow, sunlight and shade. The tents are mounted on stilts, which means they can be left during the wet season and physically have a minimal footprint.
Example trips
Get inspired
Browse our example trips and get in contact to start planning your very own adventure.
What makes us different
Why Niarra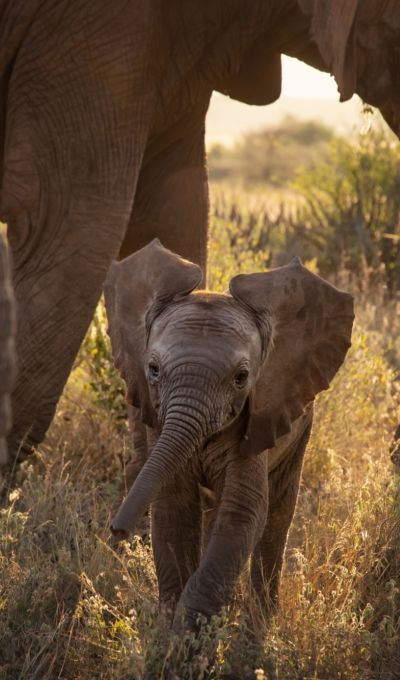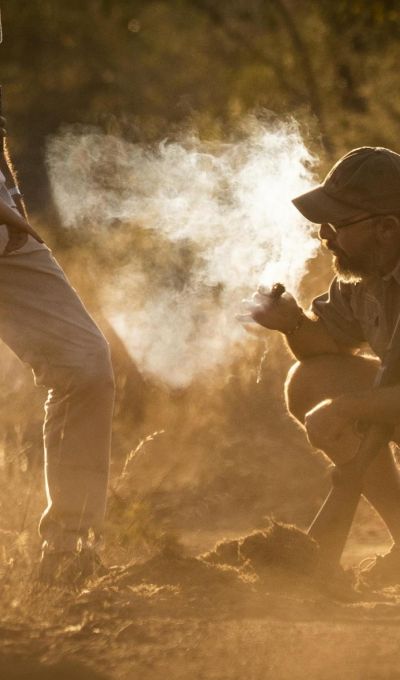 Niarra Travel is a forward-thinking travel company headquartered in London born out of a passion to do things differently.
In Swahili, a Bantu language spoken by millions in Eastern, Central and Southern Africa, the name Niara means "with utmost purpose" and our team are united by a passion for exploration and a belief that the right kind of travel can make the world a better place.
Our Travel Researchers are here to create incredible trips with a positive impact for you.
Unforgettable experiences

Creating your trip is entirely collaborative and our Travel Researchers are here for every step.

Positive impact

Curated sustainable experiences and accommodation that maximize the benefits to local people and place.

Fairness and transparency

An open, competitive pricing structure that ensures more money goes to where it's needed in the destination.