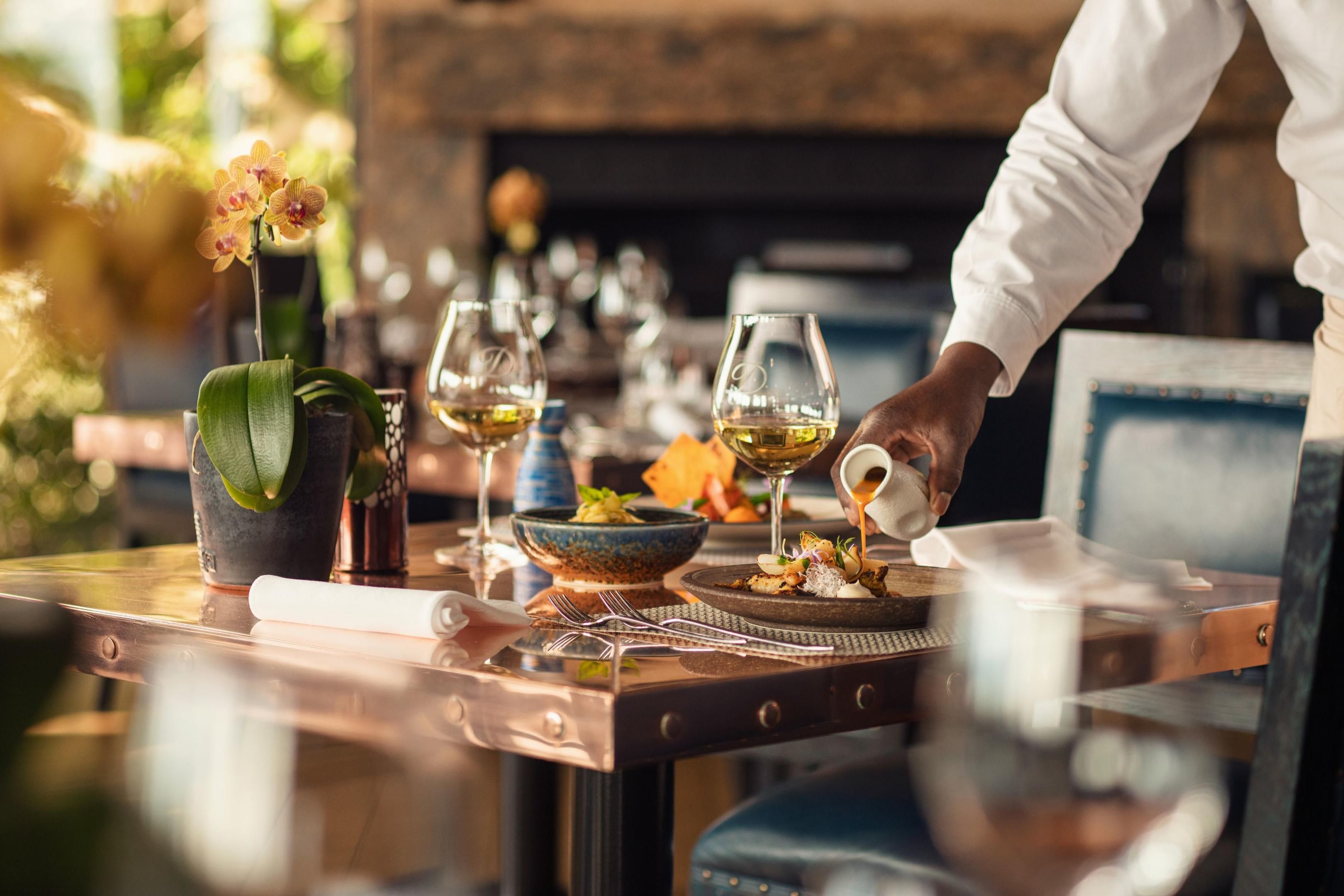 Our favourite restaurants in the Winelands
Where to eat in the Winelands
Given neighbouring Cape Town's world-famous dining scene, it's little surprise that the spectacular Winelands' historic vineyards, rich farmland and the charming towns of Franschhoek, Stellenbosch and Paarl are the setting of some very special restaurants.
With such great wine and produce, it's hard to go wrong here but here are some of our favourites. Please chat to your Travel Designer if you'd like us to book a table for you for your upcoming trip to South Africa as many of these popular spots get booked up in advance during the summer months.
Overture at Hidden Valley Wines
Local South African
This minimal restaurant nestles among the verdant foothills of the Helderberg Mountains in Stellenbosch's wine country. Television chef Bertus Basson is committed to locally sourced produce prepared with great attention to detail. His menus have their roots in traditional South African cuisine, inspired by his childhood.
bertusbasson.com | Annandale Rd, Stellenbosch | +27 21 880 2721
Oku
Asian inspired
Franschhoek's first Asian-inspired restaurant offers a calming and refined dining experience. The chef duo of Ryan Shell and Darren Badenhorst have over 30 years of culinary experience between them inspired by the Gili Islands in Indonesia. Expect a thoroughly conceptualised, authentic and flavour-packed food and beverage offering.
eat-oku.co.za | Heritage Square, 9 Huguenot Road, Franschhoek
Delaire Graff Restaurant
Contemporary bistro-chic
Take your seat in the elegant fire-warmed Delaire Graff Restaurant or dine al-fresco on the oak-shaded terrace with extraordinary views of the Banghoek Valley. Inside the restaurant is graced with the delights of Laurence Graff's personal art collection. The ingredients are all Hand-picked directly from the Estate's own greenhouse, the fresh vegetables, herbs and micro-greens incorporated into each dish change with the seasons.
delaire.co.za | Delaire Graff Estate, Helshoogte Rd, Stellenbosch | +27 21 885 8160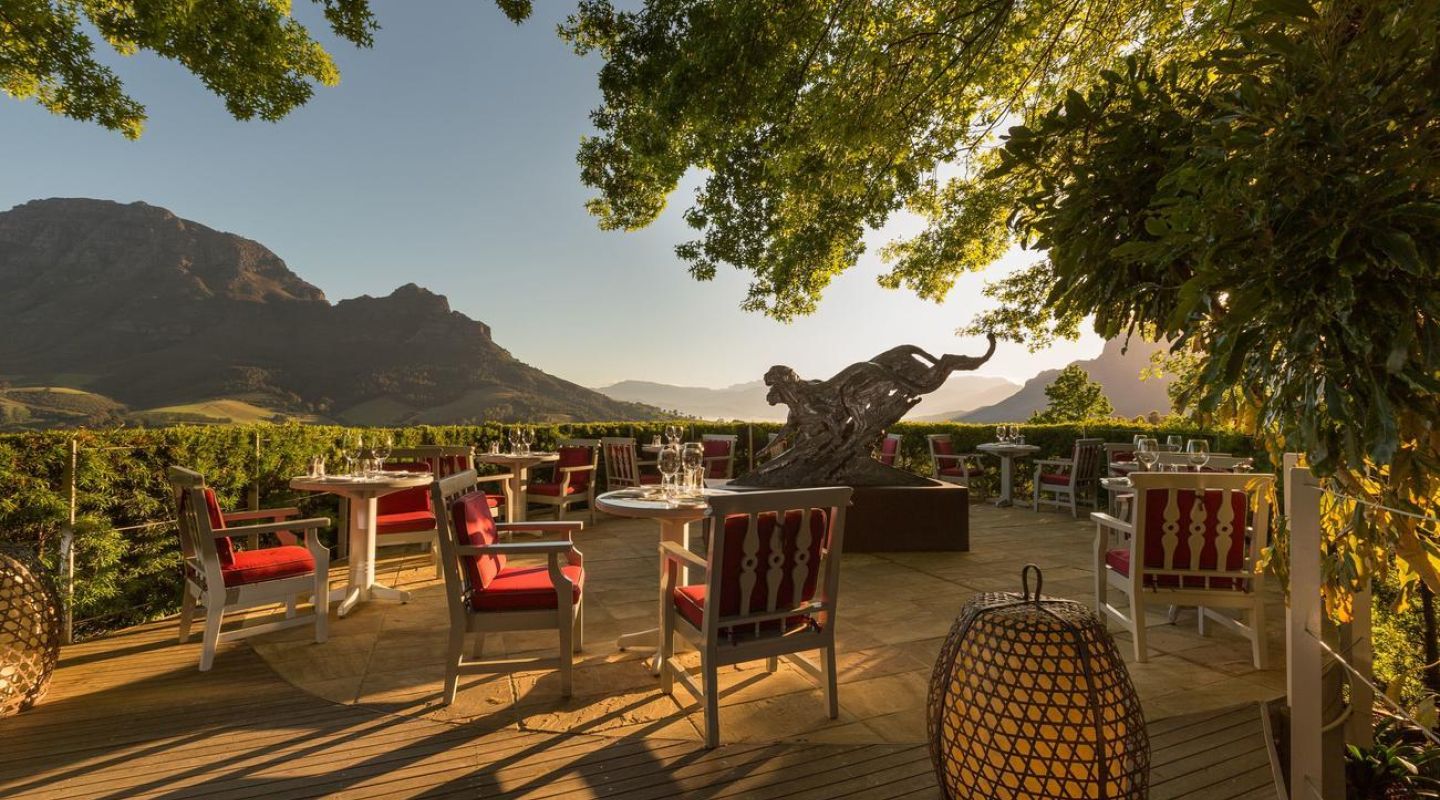 Indochine Restaurant at Delaire Graff
Indo-Asian inspired tapas
Historically Cape sailors returned from the spice lands with great riches and Stellenbosch was where some of the earliest meetings between East and West took place. Head Chef Virgil Kahn's Asian tapas are an art form – as are his signature dishes like pork belly and duck -served under the eye-catching ceiling art installation of swallows in flight. Delaire Graff is a magnificent setting for an all-sensory dining experience.
delaire.co.za | Delaire Graff Estate, Helshoogte Rd, Stellenbosch | +27 21 885 8160
Chefs Warehouse at Maison
Casual fine dining
Chef David Schneider joins Liam Tomlin in transporting Chefs Warehouse's style of casual fine dining to a refined country setting. Maison, on the edge of the historic Franschhoek village, offers a contemporary set-menu lunch or dinner. It's a riff on traditional tasting menus and small plate sharing experiences served in four courses. Sample their award-winning wines as a precursor to a meal here, or order appetisers like oysters, charcuterie or cheese boards and treat the tasting as an outing in itself.
chefswarehouse.co.za/maison | Maison Estate, R45, Franschhoek | +27 21 876 2116
Tuk Tuk Microbrewery
Casual dining and craft beers
If you are ever feeling a little 'wined out' you are now able to "Park off for a pint" and indulge in the new and exciting cuisine offering at Tuk Tuk Microbrewery. The all-day dining menu is globally inspired offering showcasing casual regional favourites from Italy, Germany, India, Mexico, USA and Great Britain. Specialties include incredible tacos, traditional eisbein, wood-fired pizzas, classically made mutton rogan josh, beer batter fish and chips, just to name a few. But it is the beer that steals the show. The Tuk Tuk craft beer range of five specially crafted brews that are unique to the microbrewery. Closed Tuesdays.
tuktuk.co.za | 14 Huguenot Rd, Franschhoek| +27 214922207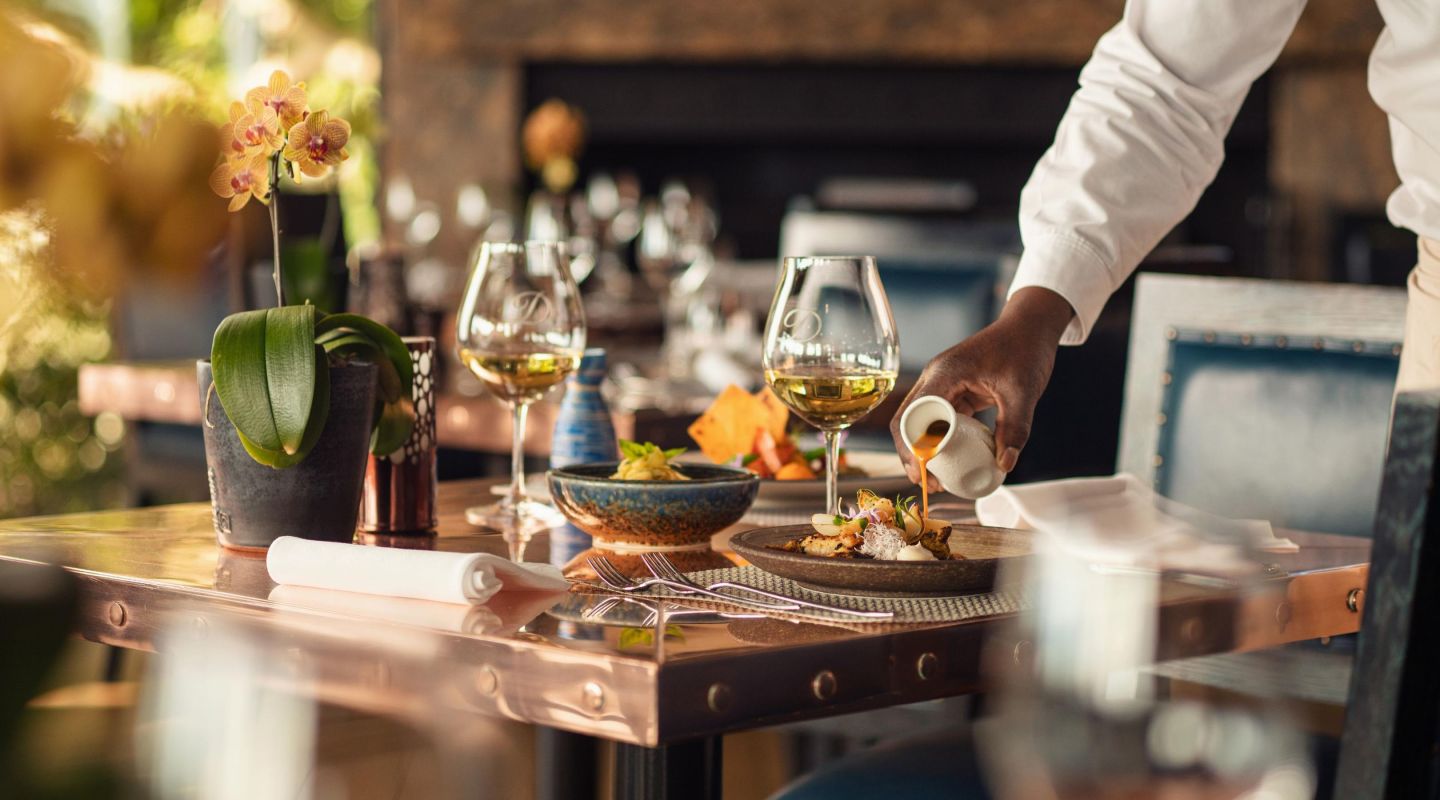 Epice at Le Quartier Français
Intimate and inspired fine dining
Derived from the French word épice meaning spice (and is pronounced eh-peace) - Epice is an intimate fine dining restaurant located at Le Quartier Français in Franschhoek. Headed by chef Charné Sampson (previously sous chef at La Colombe), Epice features a flavour-packed menu inspired by the team's culinary expedition to India, as well as memories of travels through Spain, Japan, Mexico, Denmark and the US. Closed Mondays & Tuesdays.
epice.restaurant | 2-14, Huguenot Road, Franschhoek | +27 21 492 4044
Protégé at Le Quartier Français
Innovative local fare
Also at LQF, Protégé aims to keep it casual and comfortable - but it still hits all the right spots. Zane Soutar heads up the kitchen team and is mentored by former head chef of La Colombe Scot Kirton. Protégé gives up-and-coming young chefs a space to experiment and show off their skills which comes across in the innovative menu choices. The restaurant offers diners top-quality, seasonally driven comfort food, superb local wines with attentive service that will make you feel right at home. Closed Mondays – Wednesdays.
protege.restaurant | 16 Huguenot Road, Franschhoek | +27 21 492 4048
Le coin Français
French finery
Chef Darren Badenhorst's first solo project after eight years at Grande Provence, Le xoin Français "takes diners on a nostalgic food journey of flavours, textures and interactive creations." The airy space is decked out with contemporary furniture and features French elegance in cuisine, a carefully selected locally themed wine list to showcase the best local wines, a French sommeliers selection, and an ever-evolving collaboration of art in the theme of photography. Closed Mondays.
lecoinfrancais.co.za | 17 Huguenot Rd, Franschhoek | +27 74 126 0022