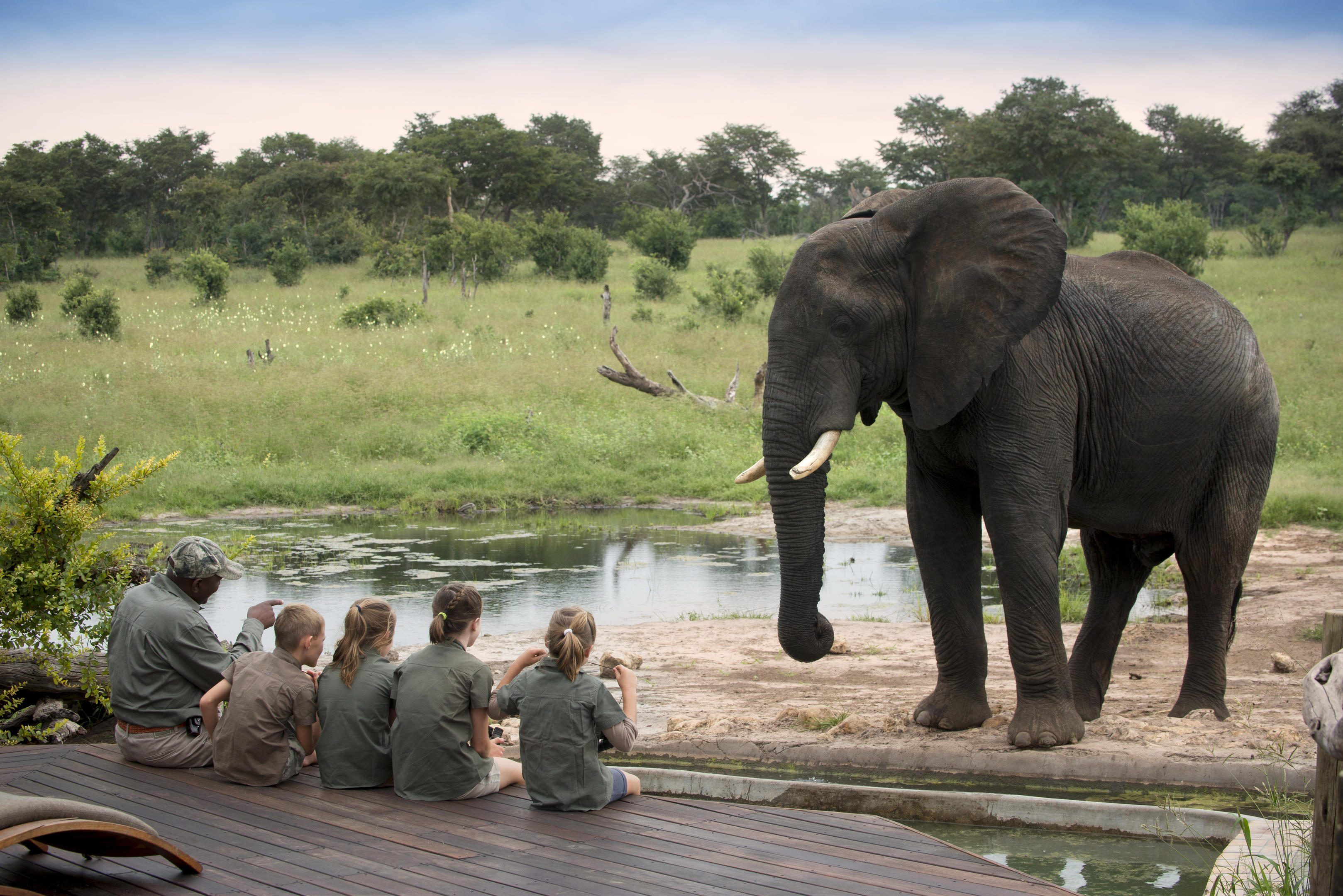 A Guide to Family Safaris in Africa
Africa is a big place
Really big. Its 30-million square kilometres make up over 20% of the earth's landmass. Fifty-four African countries are home to a seventh of the world's population, speaking more than a third of all global languages (over 2,000). Experiences on this epic continent are as varied as they are many, but for this guide, we're sticking to our most popular family trip destinations, primarily in southern and eastern Africa.
So, if you're thinking of planning a family adventure to Tanzania, Kenya, Zambia, Botswana, South Africa, or Namibia, look no further.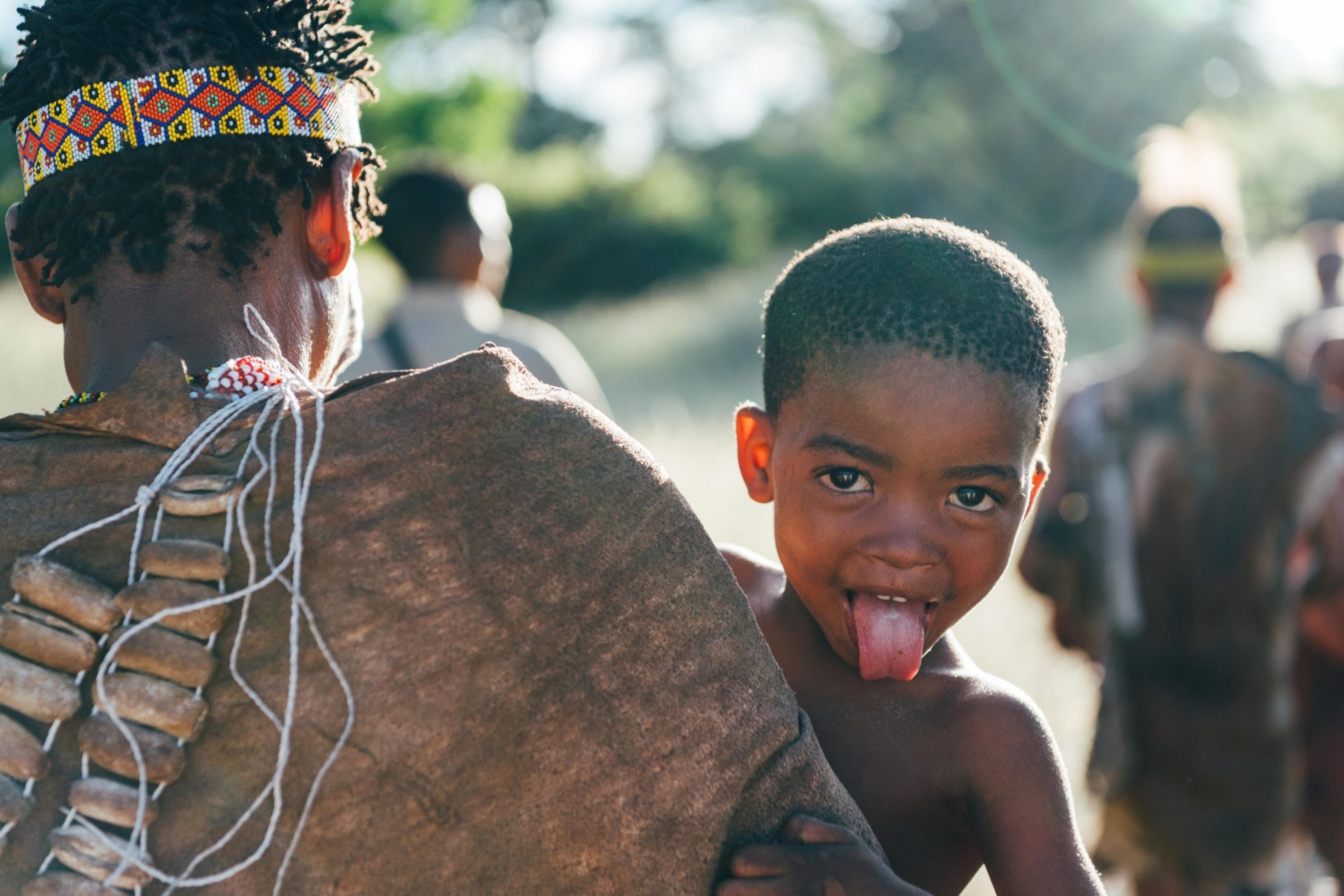 Is Africa safe for family travel?
Our quick answer is yes, absolutely! It's not only safe but also mind-expanding and incredibly varied. After months of restricted travel and too much screen time, we can't think of a better way to spend quality time together than throwing the senses into overload through encounters with culture, communities, wilderness and wildlife that will cast a lifetime of memories.
By travelling with a reputable travel specialist, you'll be in the best possible hands on the ground. This doesn't only help to iron out any lingering safety concerns and guarantees the whole family gets the most from your trip. By travelling with Niarra, you'll make sure it positively impacts people and nature, too.
Where is best in Africa for a family safari?
It depends! Whether you're a multigenerational family group aged 8 to 80 after maximum flexibility, have teenagers up for a life-enriching adventure, or would like a little downtime from younger ones thanks to experienced babysitters and child-focused guides, we'll help you find the perfect safari.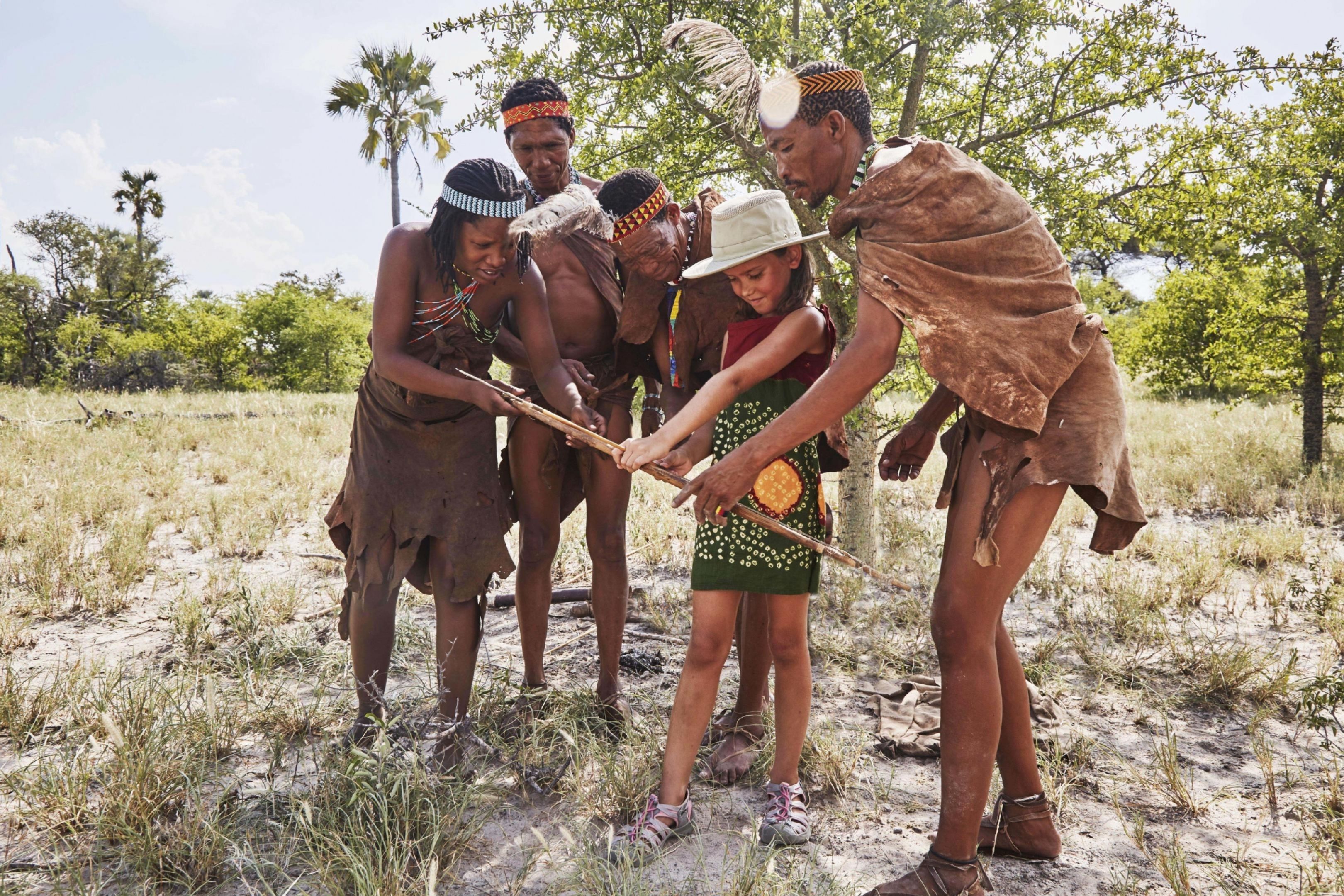 South Africa 
South Africa is ideal for families with younger children because there is no need for yellow fever vaccinations and there are some superb safari areas that don't require malaria medication. Wildlife is brilliantly accessible, hospitality and service are exceptional everywhere you go, it's possible to self-drive, and distances needn't be too epic.
With so much to potentially see and do, many families decide to stick to a region to reduce transfer time. Cape Town, the Winelands, the Garden Route, and the Karoo work well together, as does the Eastern coast, Kruger, Johannesburg, and the Drakensburg. Whichever you pick, you won't be disappointed, and you may well want but you will long go back for more.
It's possible to spend weeks in Cape Town and the Western Cape alone entertaining kids of all ages. Even little legs can manage the cable car to Table Mountain's top or set sail on the Jolly Roger Pirate Boat from the V&A Waterfront. Older kids will appreciate the surf scene in Muizenberg or kitesurfing in the West Coast National Park. Family holidays are also a brilliant chance to facilitate meaningful cultural exchange, like Uthando's ethical and inspiring tours of enterprises in Cape Town's townships (best for teenagers).
Accommodation is as diverse as the wildlife and landscape, so there's something for all family needs and configurations. Private houses or apartments tend to work best, such as Morukuru Ocean House's private four-bedroom coastal escape, More Quarter's home away from home in Cape Town, and Madikwe River House for those after a private family-friendly safari.
Kenya and Tanzania 
These East African safari destinations offer something for all ages, but families with kids over eight get the most from it. Slightly older kids tend to be more patient on driving and walking safaris. Interactions with eastern Africa's 100 unique cultures and communities, whether through crafts in a village, learning tracking skills from a Maasai warrior, football games with a local school, may also have a more lasting impact on older children.  
Kenya and Tanzania are world-renowned wildlife destinations home to the Masai Mara National Reserve, Serengeti National Park, and Amboseli National Park. Rather than join lines of safari vehicles in over-touristed spots, we opt for lodges in privately protected areas or community concessions, where families can enjoy a greater variety of wildlife encounters on their terms.
Luxury camps and lodges like House in the Wild, Borana, and Kicheche Mara are committed to protecting wildlife in partnership with local communities. This makes the experience more holistic – more about people and their connection to a place than ticking off a list of animals – while also offering some fantastic 'young ranger' activities created just for children.
For those after a bit of downtime or water-based fun, Kenya and Tanzania are good options for a beach and safari combo. Families will love Robinson Crusoe days dipping between white sand and azure sea at Chumbe Island off Zanzibar.
Botswana
The Kalahari Desert, lunar Makgadikgadi salt pans and legendary Okavango Delta are some of Africa's least spoilt landscapes. Such a haven of untouched wilderness is thrilling for teenagers but not recommended for toddlers. Botswana lends itself to adventure, from riding safaris to quad bikes, so no one is in danger of arguing over screen time. In Botswana, our top family trip is a private weeklong walking and mobile camp expedition with seasoned guide Andrew Harkness.
Namibia
Namibia is one of the best countries to embark on a road trip with kids. Roads are easy to navigate, and the landscape is varied and epic, from Sossusvlei dunes to the other-worldly Skeleton Coast. Like South Africa, there's no malaria or yellow fever. Activities are plentiful for kids of all ages, including kayaking with seals in Walvis Bay, sandboarding down the Namib Desert's dunes, and tracking rehabilitated leopards at the AfriCat Foundation.
For a few nights of utter silence and dark skies, Wolwedans is a collection of camps in the Namib Rand Nature Reserve. Here, families with toddlers can enjoy the privacy of a lodge or camp to themselves, while older kids are welcome throughout the five different camp options.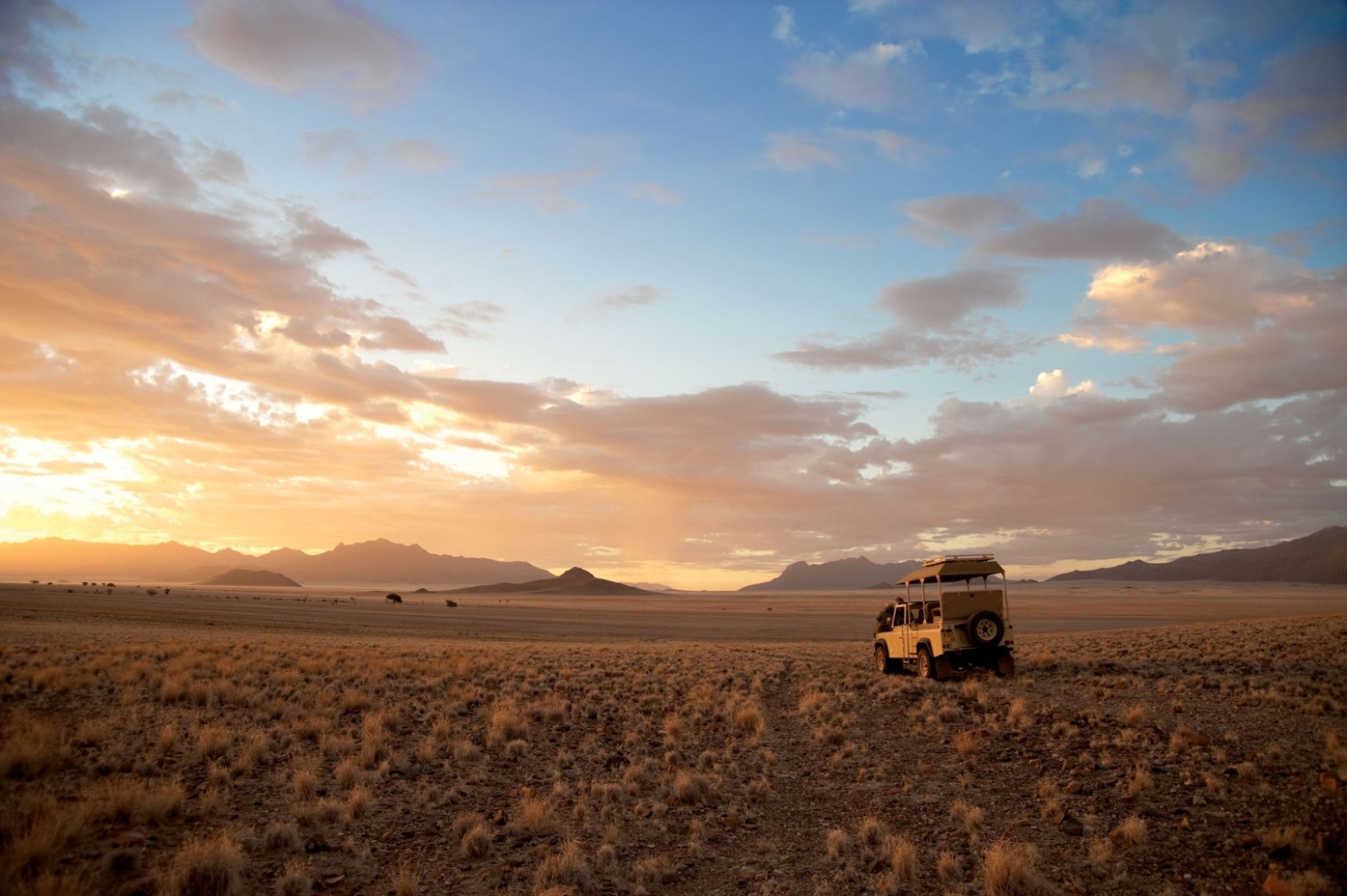 When to go?
Every month brings something new, so there isn't a wrong time to travel to any of our Africa family travel destinations. June to September tends to be the preferred time in Kenya, Namibia, and Tanzania. In winter, it's cooler, and wildlife is easier to spot. The Great Migration happens in July and August, too. 
South Africa enjoys warm, blue skies between January and April. July and August, however, are the best months to spot migratory whales. Most visitors prefer to head to Botswana between May and October when waterways are high, and days are sunny.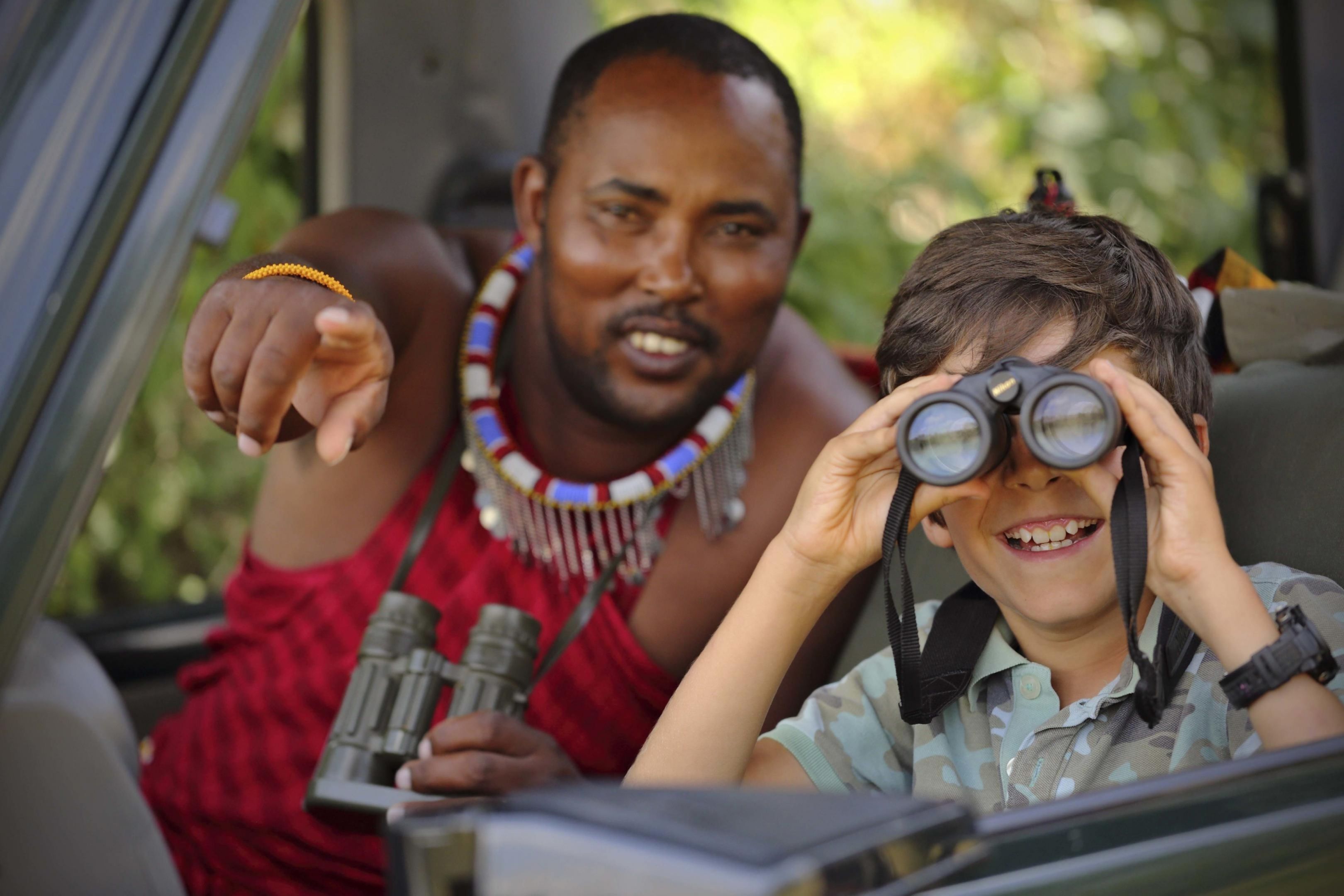 What can I expect on a first family safari?
Most camps will not let children aged five or below on safari drives with other guests. A private vehicle and guide will make the whole experience much more enjoyable anyway – you can plan to start earlier or later and tailor the experience to the attention spans of little ones.
We select our partners for their passion and no critter or creature is too big or small to learn from and be amazed by. This is important when going on safari with younger kids who may find a scuttling dung beetle more fascinating than a sleeping lion. The whole experience is more enjoyable if you have time and space to follow their interests as much as yours.
Many luxury lodges have specialist childcare onsite, so if adults do want to head out into the bush without kids, that's easy to arrange. It can be hard to wrench them away from activities like cooking lessons, Maasai Warrior School, or fishing expeditions on return.