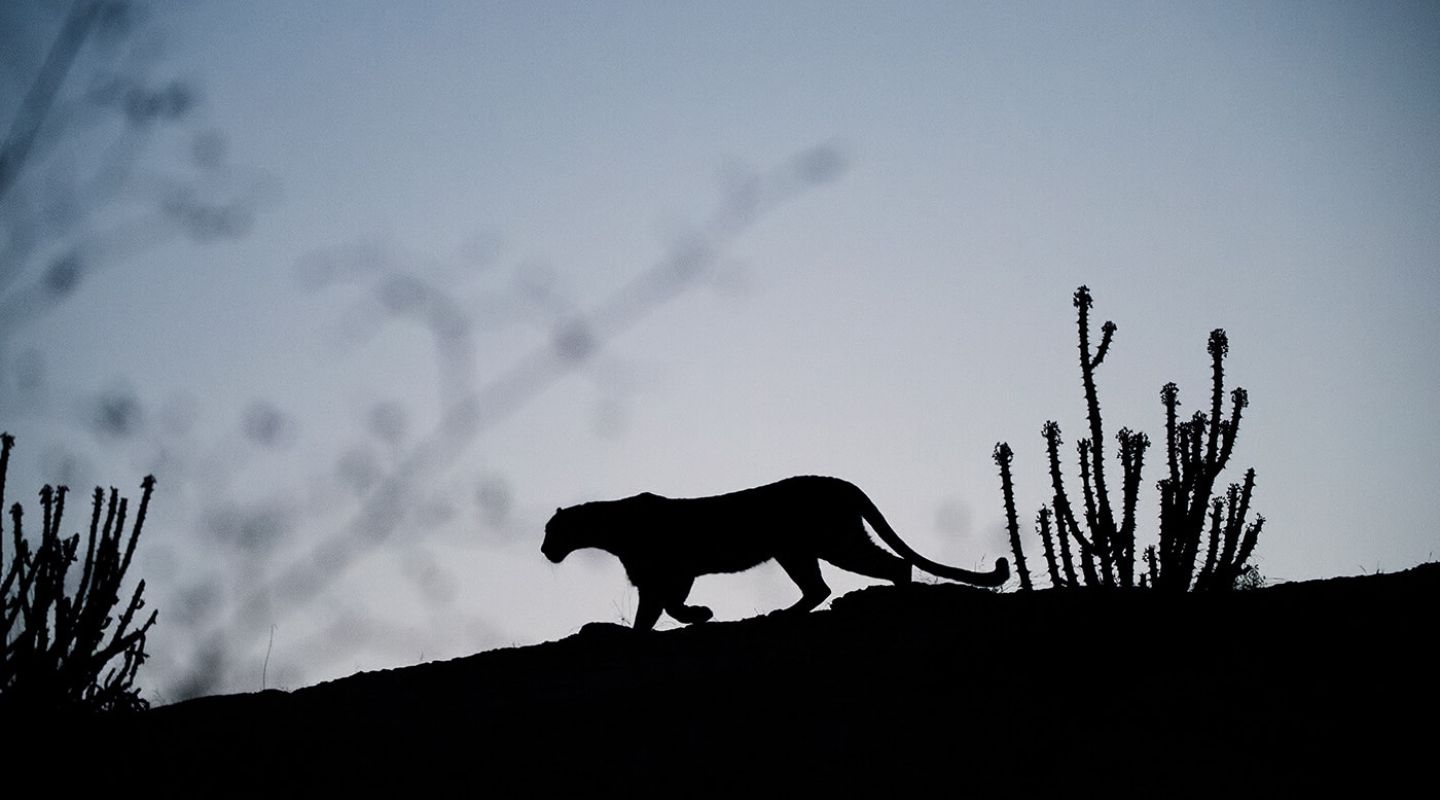 14-day trip
The Treasures of Rajasthan
Overview
A kaleidoscope of sights
This is a captivating journey through the treasures of Rajasthan in India. Begin in Old Delhi, where the narrow lanes and bustling markets arrest the senses with a kaleidoscope of sights and sounds. Drive overland into the heart of Rajasthan where the enigmatic cities of Jaipur, Jodhpur and Udaipur await.
Then retreat to the peaceful landscapes of Jawai for a stay at one of India's finest tented safari camps. The naturalist team at Jawai Leopard Camp will take you on an exhilarating wildlife adventure tracking elusive leopards in their natural habitat. From here, you will discover the tranquillity of the Aravalli Hills and relish breathtaking sunsets in Delwara.
Conclude your adventure in Udaipur, the City of Lakes, where marble palaces and captivating lakeside views will leave an indelible mark in your memory. Marvel at the architectural splendours of the City Palace and wander through the charming streets of the Old City. Unwind in a palace on Lake Pichola before bidding farewell to India, leaving with cherished memories of this extraordinary journey.
Highlights
Trip highlights
Immerse in the vibrant chaos of Delhi's markets, where colours, trinkets, and bustling crowds create a sensory feast

Explore the majestic Mehrangarh Fort in Jodhpur, a stunning architectural masterpiece offering panoramic views of the city

Embark on a thrilling leopard safari at Jawai Leopard Camp, where you'll search for these elusive cats in the wilderness of a private reserve

Indulge in serenity and awe-inspiring sunsets in the Aravalli Hills, finding refuge in a former palace nestled amidst breathtaking natural surroundings.
Inclusions
What's included
Accommodation for 13 nights in luxury accommodation

Private transport in an air-conditioned vehicle

Private Services of English-speaking local Guides

Price per person based on two people travelling and sharing a room throughout
An unforgettable trip with a positive impact
Community & Culture

Properties and experiences that uplift and empower local communities.

Conservation

Supports wildlife projects, protected areas and ecosystem regeneration.

Footprint

Lodges and camps chosen for their sustainability credentials and initiatives.
Start exploring
Days 1 — 2
Discover Old Delhi
Your adventure begins in Old Delhi. Join your private guide and take a cycle rickshaw ride to explore the narrow lanes that lead to Delhi's vibrant markets. On every side, you'll encounter a riot of colours and trinkets as bangles, textiles, silver, jewellery, spices, and people that spill from shops and market stalls. Then, from the wonderful chaos of Delhi, you travel overland in a private car for about four hours to Jaipur in the heart of Rajasthan.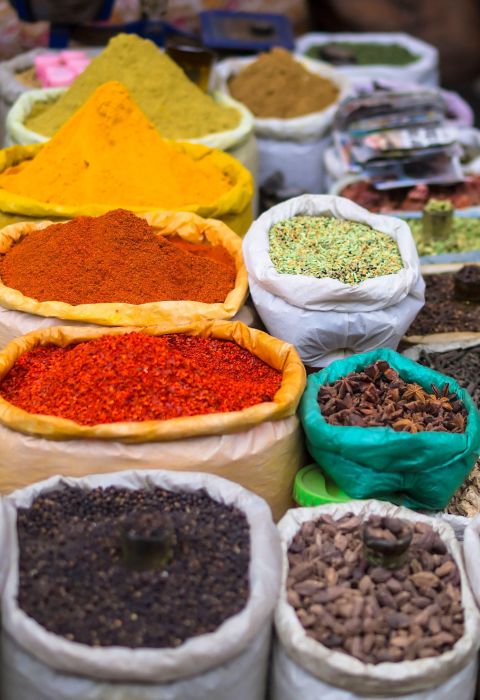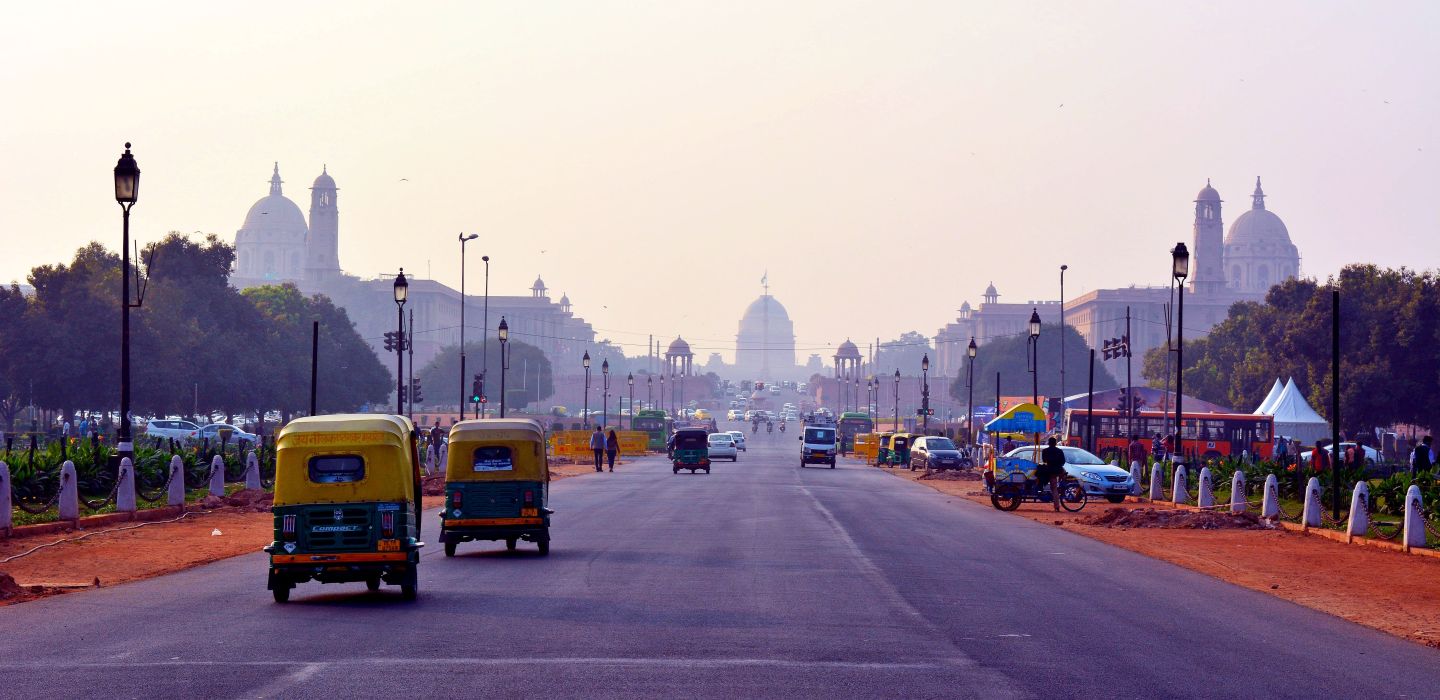 Days 3 — 4
The Local Treasures of Jaipur
Your first morning in Jaipur brings you to the wholesale flower market, capturing incredible hues as vendors prepare garlands for religious ceremonies and weddings. Later, visit the City Palace, Amner Fort and the Jantar Mantar observatory. With your private guide, enjoy a walking tour of Jaipur's Old City. Stroll down historic lanes that lead to ancient temples and magnificent stepwells. Then escape the bustle of the city for a few hours in the Aravalli Hills. Here you can walk next to a rescued elephant - a truly humbling experience - before enjoying lunch in these beautiful private grounds. In the evening, savour a cooking class and dinner in a local home.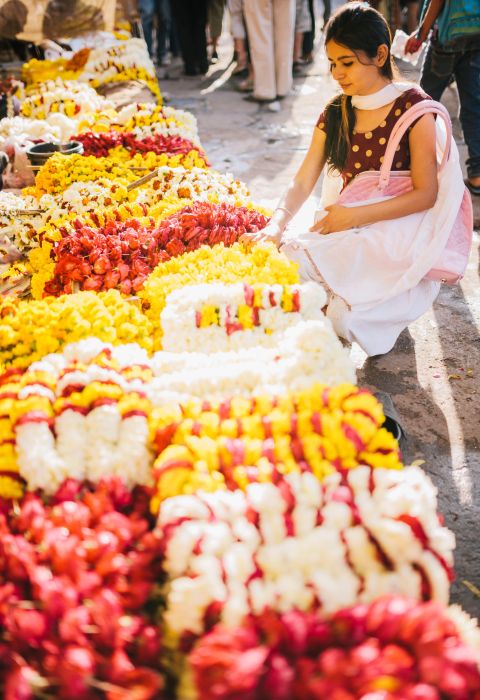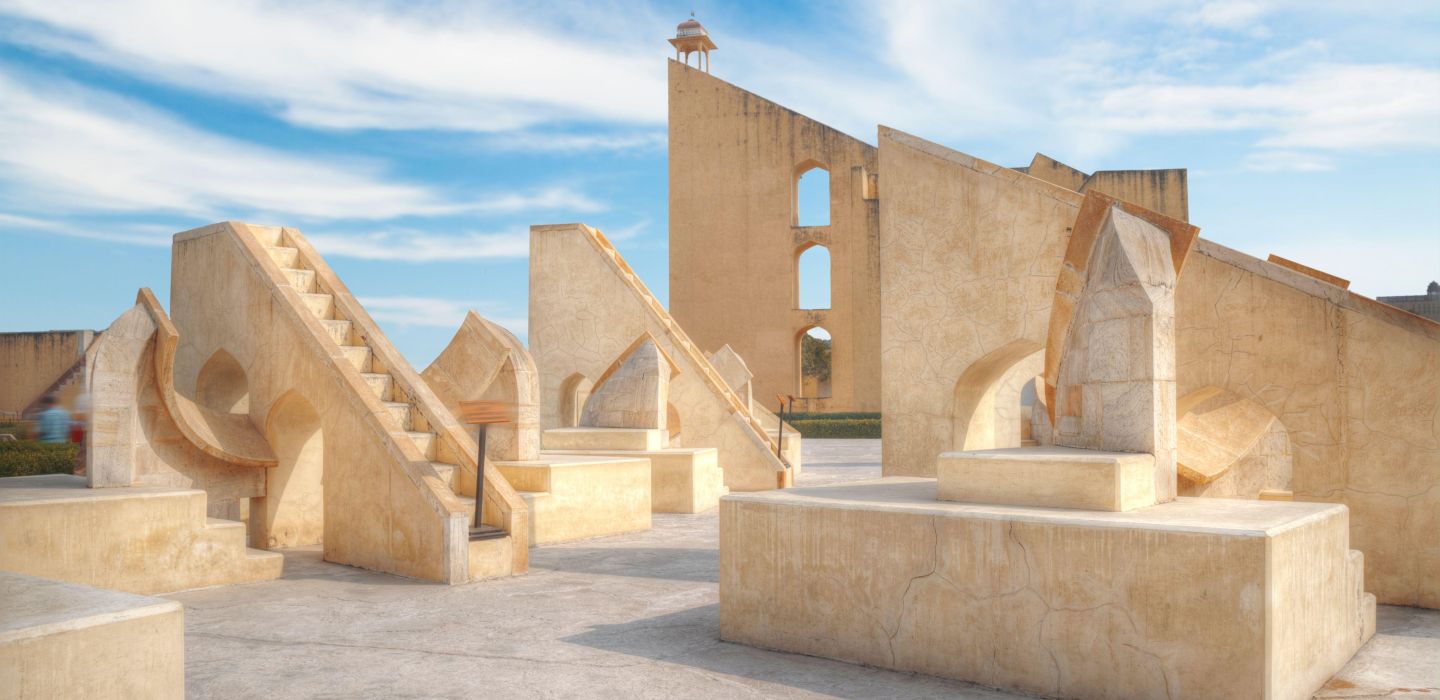 Days 5 — 7
Markets and Palaces in Jodhpur
Your stay in Jodhpur begins with a visit to Mehrangarh Fort, perched on a rocky ridge at the heart of the city. With your private guide, you'll learn about the rich history of the Rathores and the ancient kingdom of Marwar. This is one of the most impressive palaces in all of Rajasthan. In the afternoon, join your guide for a walk through the back streets and vibrant markets of the walled city. Immerse yourself in Jodhpur's rich culture and shop for famous glass bangles, leather slippers, hand-dyed fabric, and embroidered textiles.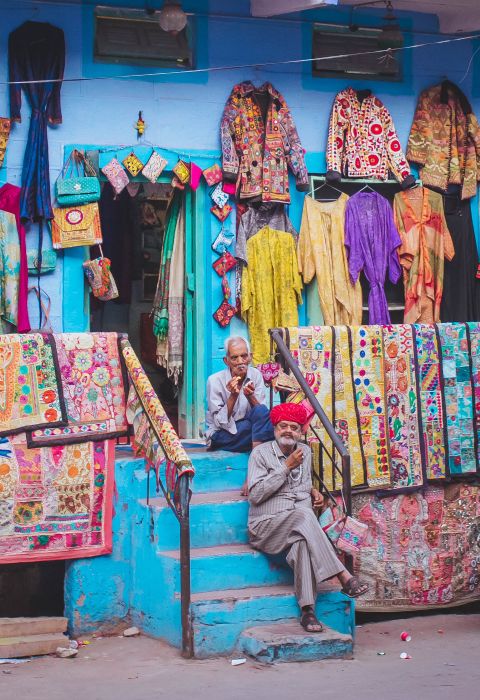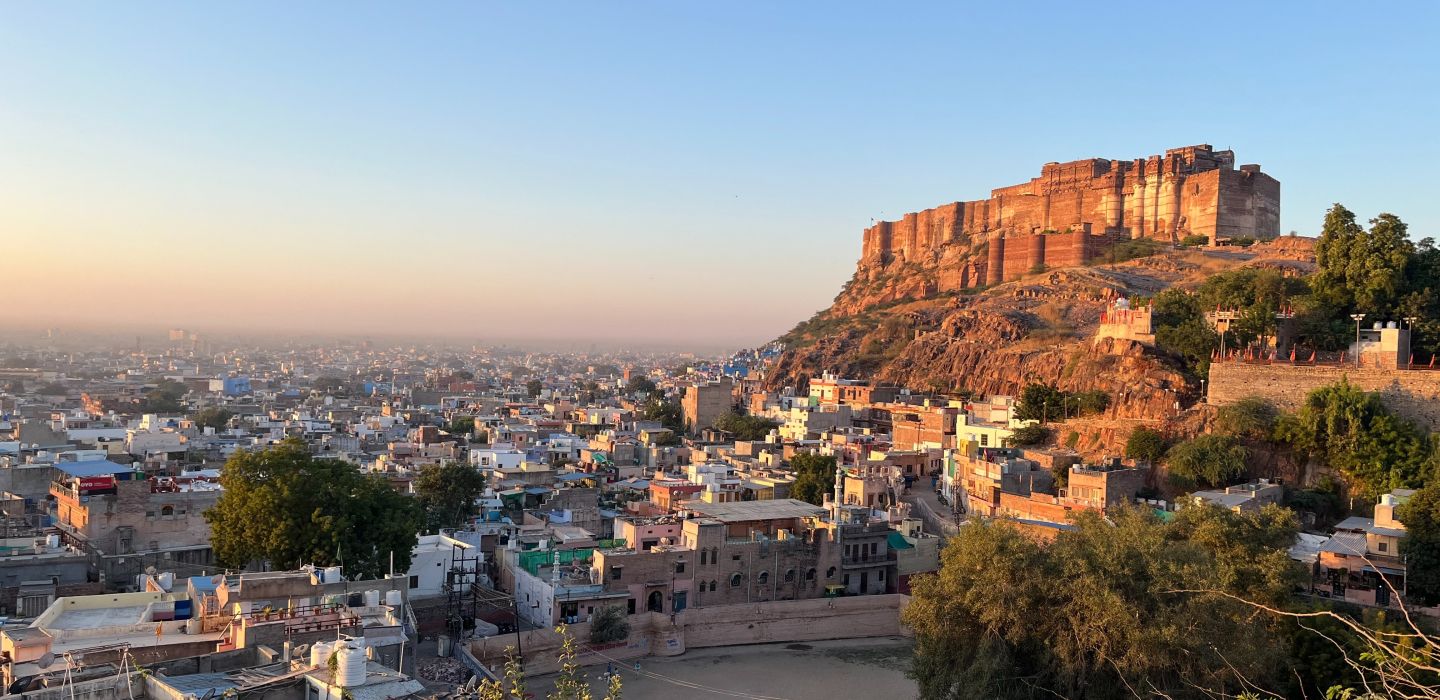 Days 7 — 9
Tented Leopard Safari
This morning you will drive to Jawai Leopard Camp. This luxury safari camp is set in a dramatic location amongst ancient craggy boulders and lush green fields. Feast on delicious meals produced from Jawai's organic farm garden and enjoy thrilling game drives in this private reserve. Search for the leopards in the wilderness in 4X4 vehicles, on horseback or foot.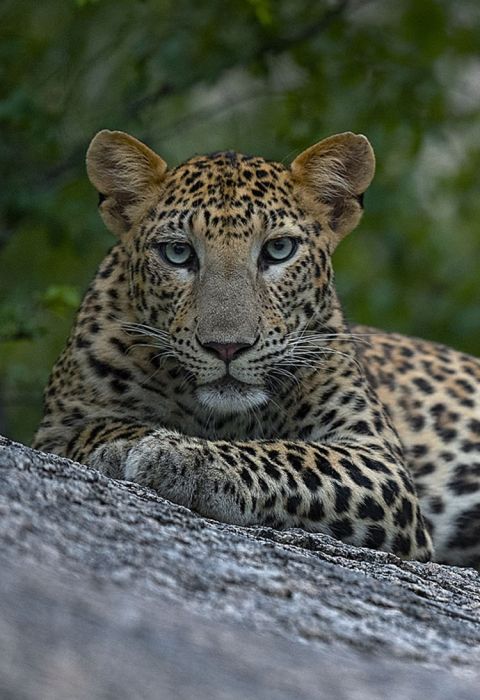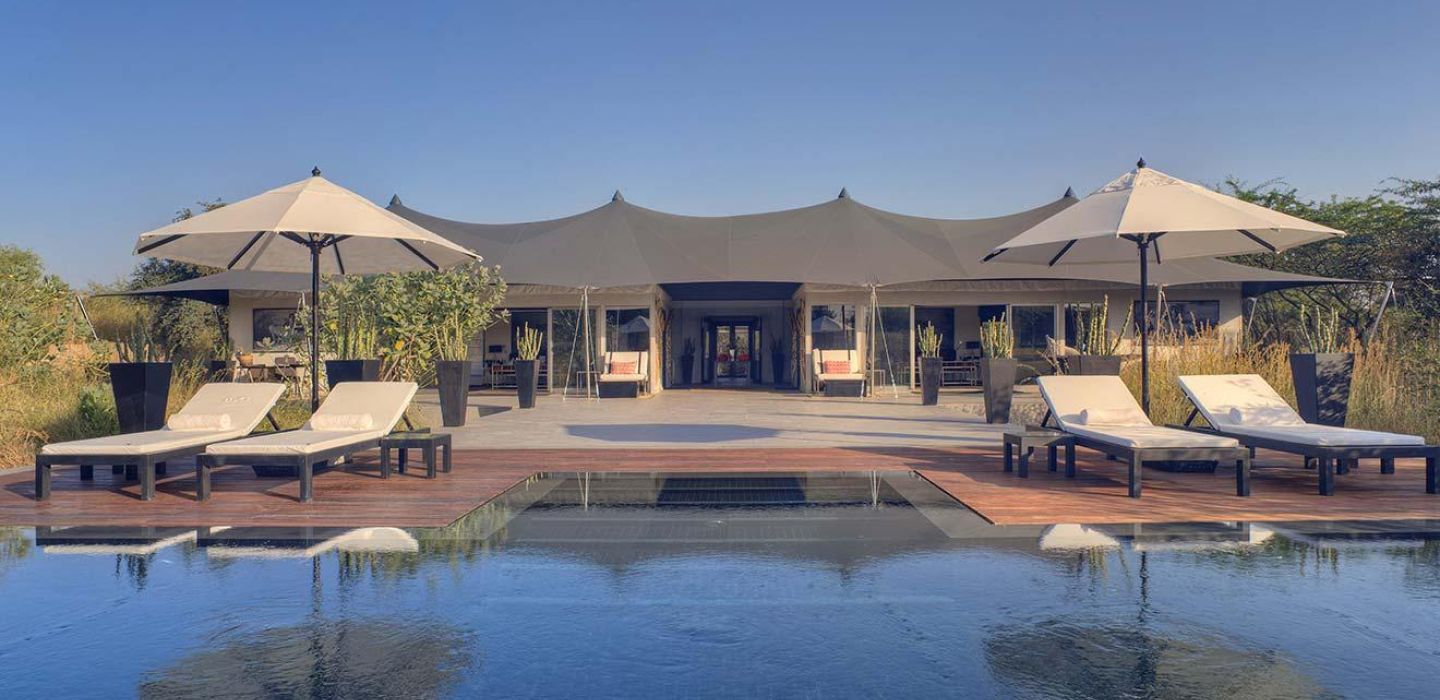 Days 10 — 11
Sunsets and Serenity in the Aravalli Hills
From Jawai, the drive is about three hours to Delwara in the Aravalli Hills. This afternoon, we expect you'll encounter one of the most beautiful sunset views in all of Rajasthan. Your stay at this former palace will be one of peace and calm. With big views, a large swimming pool and plenty of cosy rooms, this is a place to hide away and let your Indian adventure sink in.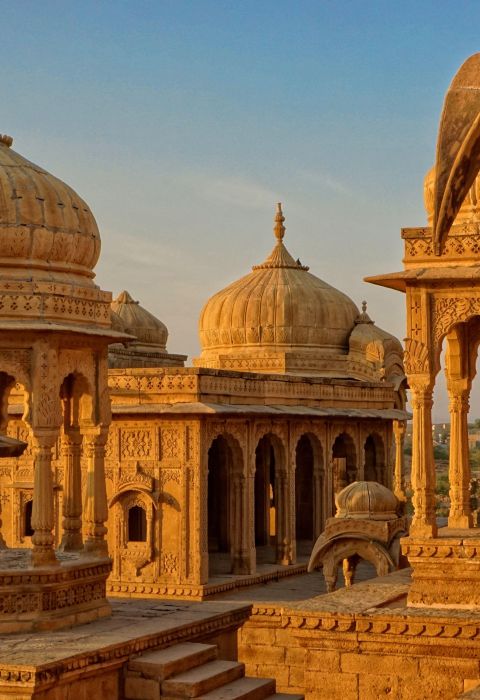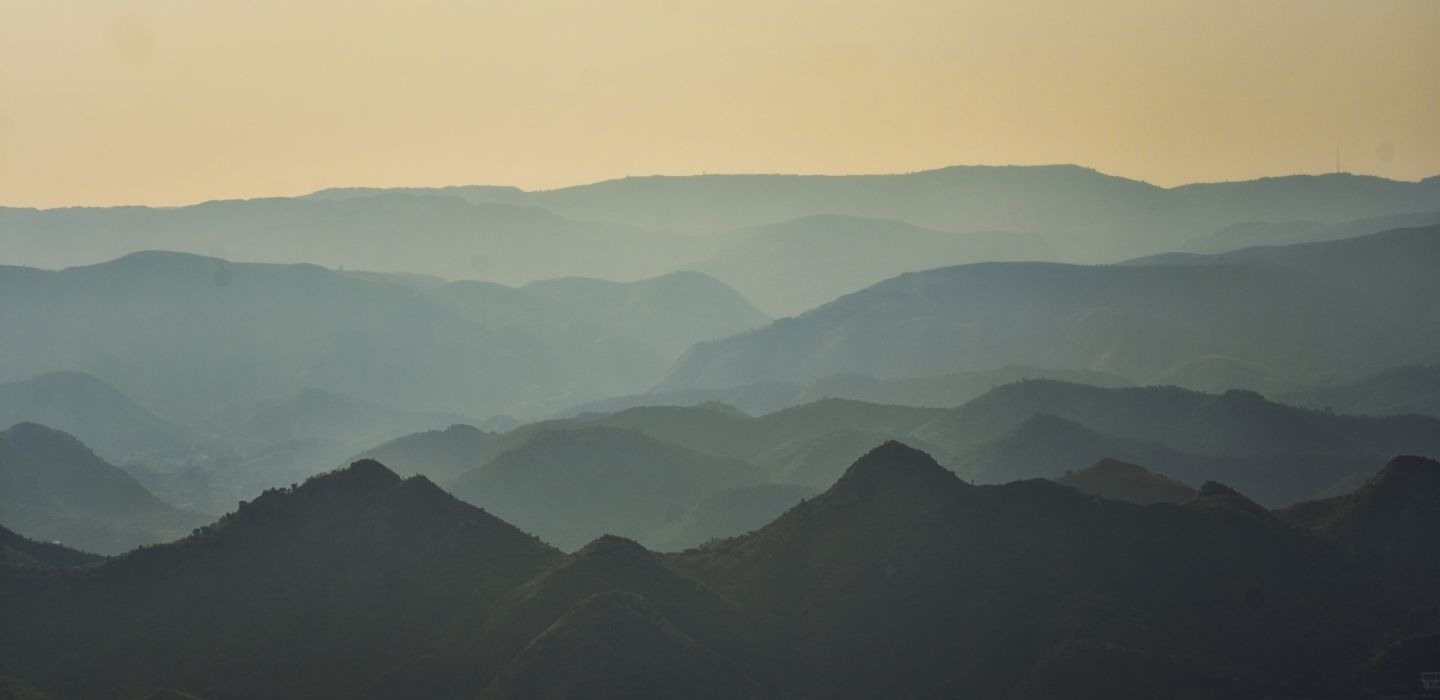 Days 12 — 14
The City of Lakes
Udaipur, a city of marble palaces and glittering lakes, emerged after the fall of Chittorgarh. Founded by Maharana Udai Singh in 1559, it became the capital of Mewar. Visit the Grand City Palace, overlooking Lake Pichola, which showcases exquisite craftsmanship and architecture. Explore the palace's stepped design, blending Mughal and Rajput influences. We'll make sure you don't miss the Vintage and Classic Car Collection, which is surprisingly enchanting. Stroll with your guide through the Old City, sharing the winding streets with wandering elephants, sacred cows and local people going about daily life.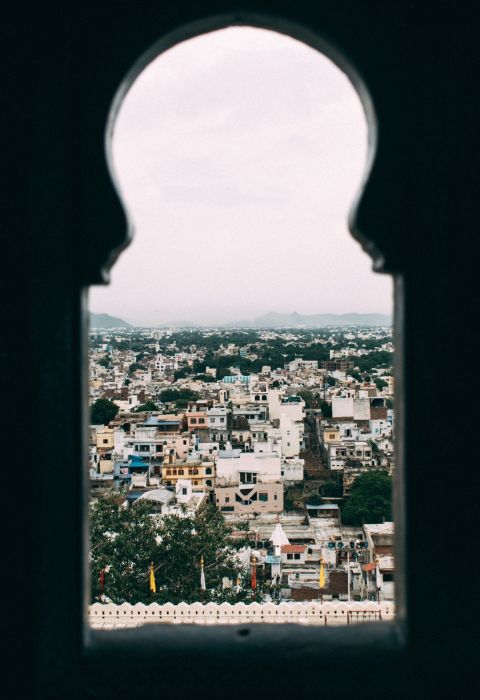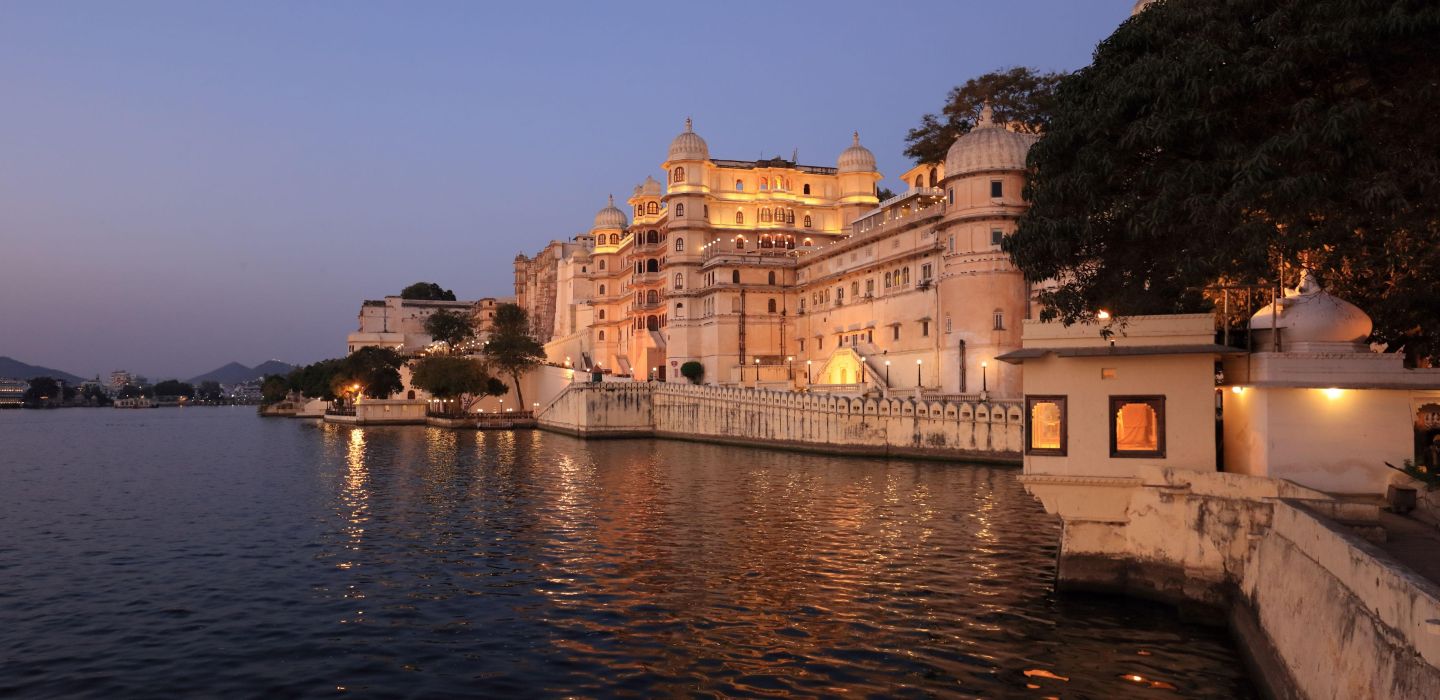 Start your adventure here
The Treasures of Rajasthan
from
€
7900
PP

We always aim to reply within 24 hours.
Example trips
Get inspired
Browse our example trips and get in contact to start planning your very own adventure.
Example trips

Get inspired

Browse our example trips and get in contact to start planning your very own adventure.
What makes us different
Why Niarra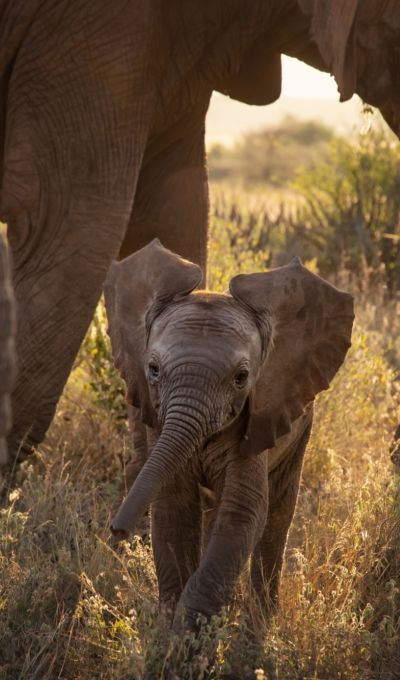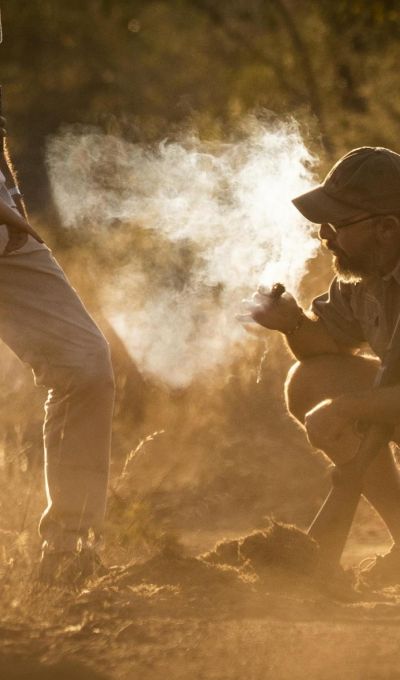 Niarra Travel is a forward-thinking travel company headquartered in London born out of a passion to do things differently.
In Swahili, a Bantu language spoken by millions in Eastern, Central and Southern Africa, the name Niara means "with utmost purpose" and our team are united by a passion for exploration and a belief that the right kind of travel can make the world a better place.
Our Travel Researchers are here to create incredible trips with a positive impact for you.
Unforgettable experiences

Creating your trip is entirely collaborative and our Travel Researchers are here for every step.

Positive impact

Curated sustainable experiences and accommodation that maximize the benefits to local people and place.

Fairness and transparency

An open, competitive pricing structure that ensures more money goes to where it's needed in the destination.