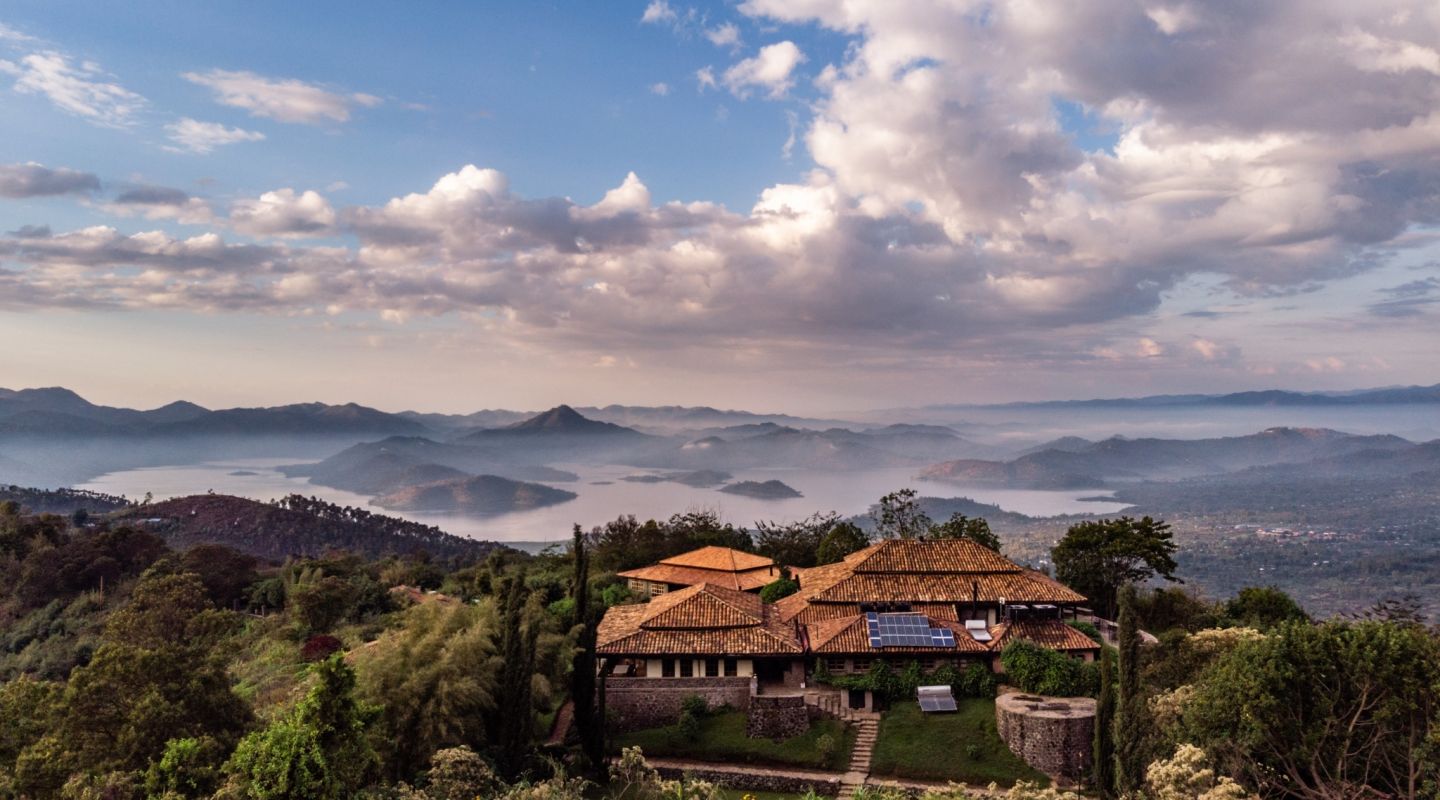 Volcanoes National Park
Volcanoes Virunga Lodge
Overview
Character with a view
Overlooking the Virunga volcanoes, you'll find Virunga Lodge set high on a ridge with Musanze Valley to the West and Lake Bulera and Ruhondo to the east.
Settle into your banda, one of 10, and find yourself surrounded by Rwandese Afro-chic décor and a artisanal craftsmanship. Watch the rising sun paint the dramatic landscape in golden hues from the comfort of your private terrace, or spend a cool evening curled up in front your fireplace. Ibirunga and Ibiyaga, the property's two deluxe bandas, each have their own sitting room, hot tubs and larger terraces overlooking the Virunga volcanoes or Twin Lakes.
With outstanding food and attentive, personalised service from the Virunga Lodge team, it's an ideal place to call home during your memorable gorilla trekking adventure. Spend time relaxing in the main lodge, or take some time out in the Dian Fossey Map Room. You'll be treated to a complimentary massage as well. In addition to tracking gorillas, you can head out to look for golden monkeys, hike up the volcano, take scenic walks through nearby villages or learn more about some of the community projects Virunga Lodge is involved in.
Facts
At a glance
10 Bandas

Personal butler service

Spa and sauna

Bar and restaurant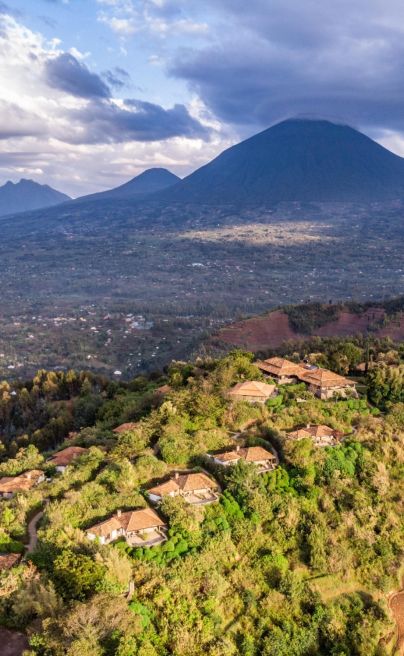 Experiences
Gorilla tracking

Heading through the dense forests to look for mountain gorillas is a truly magical experience. Only eight visitors are assigned to each family of gorillas per day, and you'll get to spend a memorable hour with them in the forest. This activity is suitable for all fitness levels.


Golden monkey tracking

There are only a small number of golden monkeys left and some of them can be found in Volcanoes National Park. Look out for their golden bodies and black limbs as they play in trees. They can also be found in the Mgahinga National Park in Uganda, and no matter which side you choose to do this activity from, the walk will take you through bamboo stands and forests to elevated moorlands.


Intore dance performances

The Intore Dancers group, which is made up of 24 dancers and two trainers, perform the traditional Rwandan ballet, the Intore (The Heroes). This dance is based on the victory dance of the Rwandan Mwami (kings). Today, dancers use traditional weapons like spears and bows and wear long white hairpieces.


One Sheep Per Family' project

'Virunga Lodge's 'One Sheep Per Family' project gives one sheep to each of the 140 families in the Sunzu community. The manure is used to make fertiliser for the family's crops, and lambs are able to be sold to provide extra income.

Hike to Dian Fossey's grave

You'll find the graves of Dian Fossey and some of her research gorillas in a beautiful meadow between the Karisimbi and Visoke volcanoes. The trek is highly recommended for anyone interested in gorilla conservation in Rwanda, or Fossey's personal story. Beginning early in the morning, it can take between six and eight hours.


Lake Bulera Village Walk

If you have a free afternoon, head down the mountain slope and through some of the local villages on your way to Lake Bulera. As you walk through the villages, you'll get a feel for what life is like there and perhaps even pop in at local schools and community centres.


Climb a volcano

The nearby volcanoes offer avid hikers various routes with stunning views. The most popular with climbers are Mt Gahinga, Mt Sabyinyo and Mt Muhavura. They range in difficulty and generally take a full day to complete. Set out from park headquarters at 7am.

Community & Culture
Established in 2009, the Volcanoes Safaris Partnership Trust (VSPT) connects Volcanoes' lodges in Rwanda and Uganda to nearby communities and conservation projects. Virunga Lodge supports several community projects. The 'One Sheep Per Family' project has seen 140 families each receive a sheep which helps them to fertilise their crops as well as have lambs to sell. They have also been providing the local community with plastic water tanks since 2016, and have been running a microfinance saving scheme for people from Sunzu Village since 2018. The Volcanoes Safaris Partnership Trust and Volcanoes Safaris, together with Sunzu village members helped to fund and erect a power line that provides power to over 63 families.
Conservation
Volcanoes Safaris was instrumental in helping to get gorilla tourism running in Rwanda through the Volcanoes BLCF Partnership Project after the genocide. In 2005 the company signed the UN Kinshasa Declaration on Saving the Great Apes, and today they are seen as the leader in great ape tourism.
Footprint
Over the last two decades, Volcanoes Safaris has worked to establish lodges that pay close attention to local culture, aiming to connect local communities and conservation projects as well as be more responsible with resources. Solar power is used where possible, they harvest rain water and recycle waste water where possible.
Example trips
Get inspired
Browse our example trips and get in contact to start planning your very own adventure.
What makes us different
Why Niarra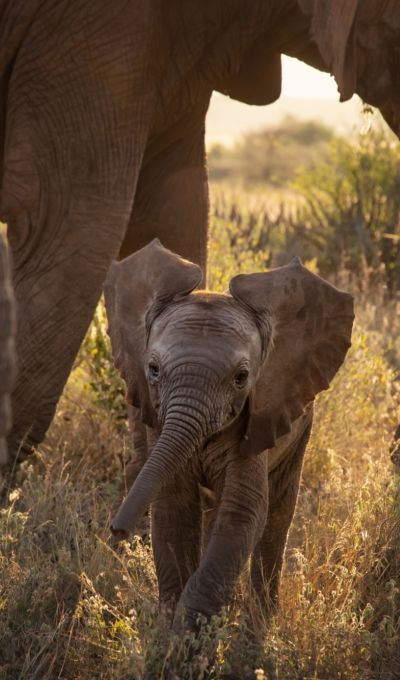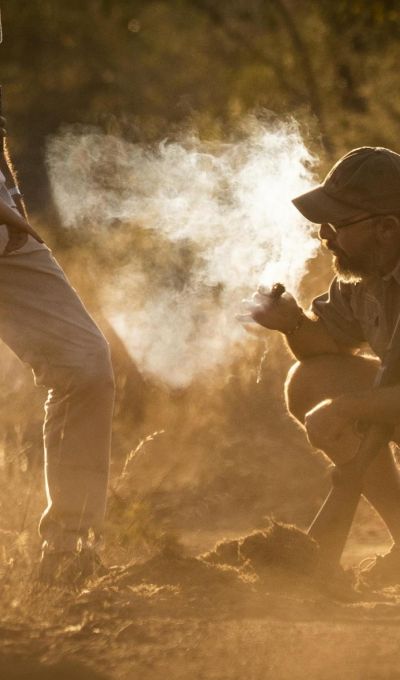 Niarra Travel is a forward-thinking travel company headquartered in London born out of a passion to do things differently.
In Swahili, a Bantu language spoken by millions in Eastern, Central and Southern Africa, the name Niara means "with utmost purpose" and our team are united by a passion for exploration and a belief that the right kind of travel can make the world a better place.
Our Travel Researchers are here to create incredible trips with a positive impact for you.
Unforgettable experiences

Creating your trip is entirely collaborative and our Travel Researchers are here for every step.

Positive impact

Curated sustainable experiences and accommodation that maximize the benefits to local people and place.

Fairness and transparency

An open, competitive pricing structure that ensures more money goes to where it's needed in the destination.