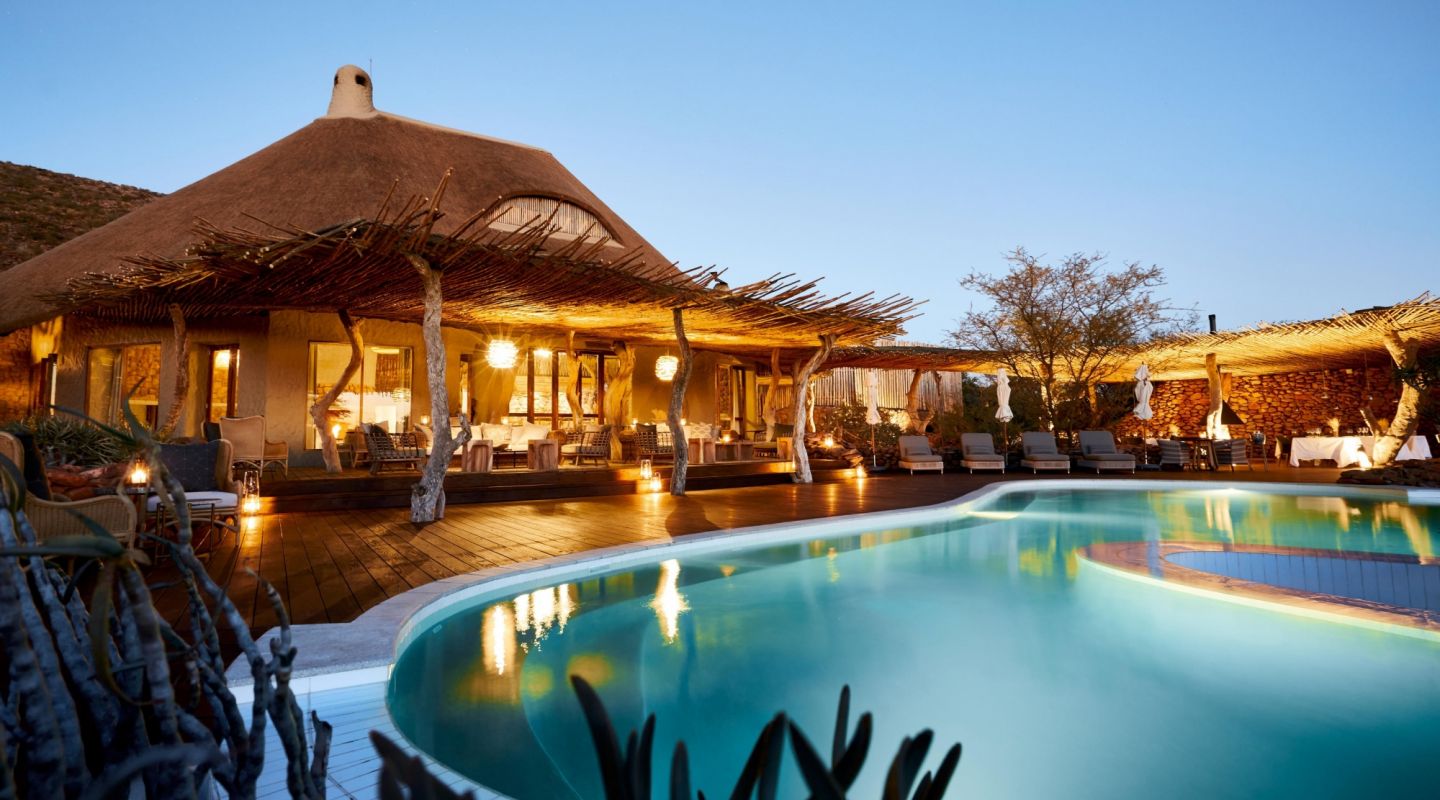 Green Kalahari
Tswalu Motse
Overview
South Africa's finest
Tswalu Motse is surrounded by some 111,000 hectares of rugged mountains, red Kalahari sands, seasonal grasslands and just two other lodges.
The Motse is designed as a small 'village' with nine 'legae' dwellings, each with a viewing deck and open fireplace. All casually elegant with a focus on simplicity and comfort.
With your own guide and vehicle, you'll get to take things at your own pace and explore the dunes and grasslands uninterrupted. There are no fixed schedules, and as the sun rises over the Korannaberg mountains each day, relish every opportunity to explore, play and learn about Tswalu's pioneering conservation projects.
Wildlife on this restored farmland is diverse and surprising, from enigmatic predators such as lions, cheetahs and wild dogs, endangered species like black rhino and giraffe, to rarities such as aardvark, pangolin, brown hyena, meerkat and bat-eared fox.
At the heart of the village find welcoming communal areas such as a spa, walk-in wine cellar, library and photographic studio. Indulge at the Klein JAN restaurant, an exciting culinary experience created by South African Michelin-star chef Jan Hendrik is close by.

Facts
At a glance
Nine houses, three with two bedrooms

Private guide and vehicle for every group

Malori Sleepout under the stars

Klein JAN restaurant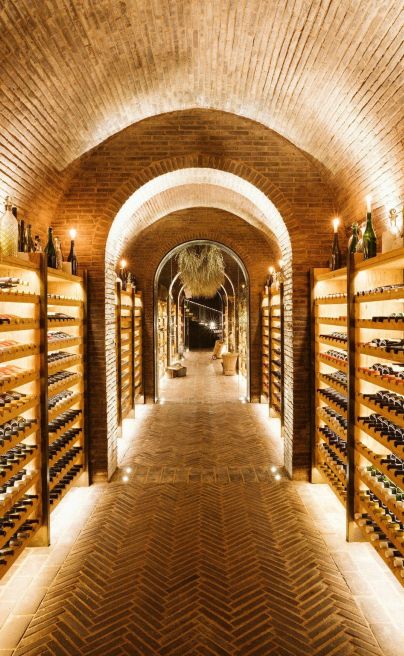 Experiences
Game drive and night drives

Having your own dedicated guide on hand means you're able to explore the grasslands and dunes at your own pace and not according to a schedule.

Walking safari

Heading out on foot allows you to appreciate the beauty of Tswalu that is found in the smaller details. From porcupine tracks, to the ripples caused by the wind shaping the dunes. You might even have the opportunity to follow the tracks of some of the area's larger creatures.

Klein JAN

The opening of Klein JAN restaurant at Tswalu is the culmination of nearly three years of research by South African-born chef, Jan Hendrik van der Westhuizen, into the culinary traditions and ingredients of the cultures and communities that call the Kalahari home. Creating Klein JAN has been Jan Hendrik's great homecoming project. An utterly unique concept, this is a culinary experience not to be missed.


Horseback riding

Explore the dunes and savannahs on horseback. This is a great way to get close to nature and the wildlife and is suitable for all ages and experience levels. The equestrian guides are well trained in the Kalahari ecology and with them you can either ride alongside animals like antelopes, buffalos, zebras and giraffes, or watch them from a distance. All the necessary equipment is provided.

Malori starbed

Drift off to sleep as thousands of stars turn slowly through the deep black skies above the Malori sleep-out deck. Enjoy dinner as the sun goes down, and awake to birdsong at dawn – an unforgettable experience.

Junior rangers' programme

Not only are children welcome at Tswalu Motse, but there are special programmes on offer that give them the opportunity to get involved with the conservation vision. As part of the Junior Ranger Programme, young guests are given a backpack with all the guides and tools they need to learn about the Kalahari. In-between game walks and drives, there are a variety of activities for them.

San petroglyphs

Together with your guide, you'll look for hidden meanings in the millennia-old rock engravings of animals, birds and abstract shapes. While no one knows why they were initially created, they certainly are beautifully mysterious.

The Tswalu Foundation

During your stay, you will have the opportunity to interact with some of the researchers studying iconic and obscure species here with The Tswalu Foundation. It's a great way to see scientific conservation in progress.

Dining

With chef Marnus Scholly at the helm, dining at Tswalu Motse reflects the culinary heritage of South Africa. Sustainability is key and the chefs use freshly foraged Kalahari ingredients as well as produce from local suppliers. The food offerings here tell the story of Tswalu. Whether its indoors, outdoors or poolside, you can choose where and when you'd like to enjoy your meals.
Community & Culture
Tswalu recognises that the people who call the Kalahari home are integral to its ecosystem and play an important role in helping to solve the conservation challenges faced in the area. There is an on-site primary healthcare centre for employees, a pre-school on the property and Adult Basic Education and Training programmes.
The many San engraving sites at Tswalu are meticulously protected and research is being conducted to reveal their origins.
The Artist in Residence programme encourages visiting South African artists to be inspired by the landscapes, flora, fauna and culture of the Kalahari. All proceeds generated from the sale of artworks goes towards funding environmental research at Tswalu.
Conservation
The reserve began in 1994 with the consolidation of around 14,000 hectares of farmland that had been depleted by over-grazing into a hunting area. When the Oppenheimer family boight the reserve in 1998 hunting was stopped and the restoration process began. Since then, more land has been added so that the reserve is now ten times the original size. The Tswalu Foundation supports ecological research in the area. The main conservation aims at Tswalu are to restore the natural environment, re-establish and protect biodiversity and maintain the Kalahari's ecological processes.
Footprint
To reduce the carbon footprint, fresh produce is grown onsite and sustainable approaches to small-scale horticulture are always being explored. Traditional and modern irrigation techniques have enabled the food supply radius to be decreased. The food philosophy here is based on locality and respect, and fresh, local ingredients are used to create traditional Northern Cape and Kalahari dishes.
Energy, water and waste are carefully monitored, and the reserve is constantly looking for ways to improve its positive impact.
Tswalu's low-footprint approach to ecotourism makes it possible for revenue to be fed right back into its conservation work.
Example trips
Get inspired
Browse our example trips and get in contact to start planning your very own adventure.
Example trips

Get inspired

Browse our example trips and get in contact to start planning your very own adventure.
What makes us different
Why Niarra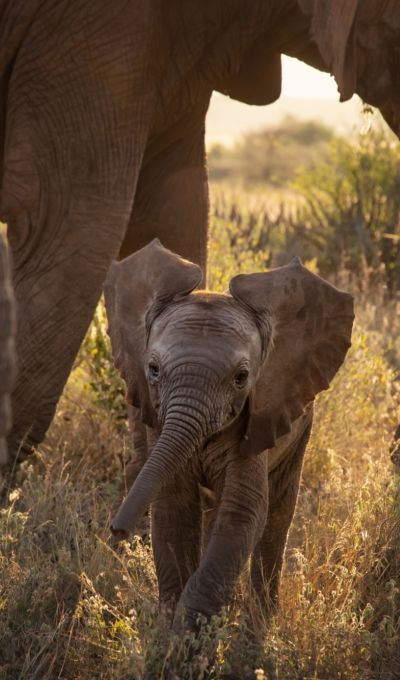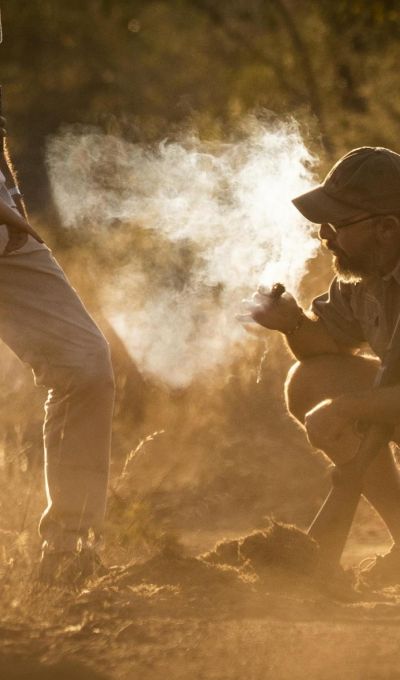 Niarra Travel is a forward-thinking travel company headquartered in London born out of a passion to do things differently.
In Swahili, a Bantu language spoken by millions in Eastern, Central and Southern Africa, the name Niara means "with utmost purpose" and our team are united by a passion for exploration and a belief that the right kind of travel can make the world a better place.
Our Travel Researchers are here to create incredible trips with a positive impact for you.
Unforgettable experiences

Creating your trip is entirely collaborative and our Travel Researchers are here for every step.

Positive impact

Curated sustainable experiences and accommodation that maximize the benefits to local people and place.

Fairness and transparency

An open, competitive pricing structure that ensures more money goes to where it's needed in the destination.