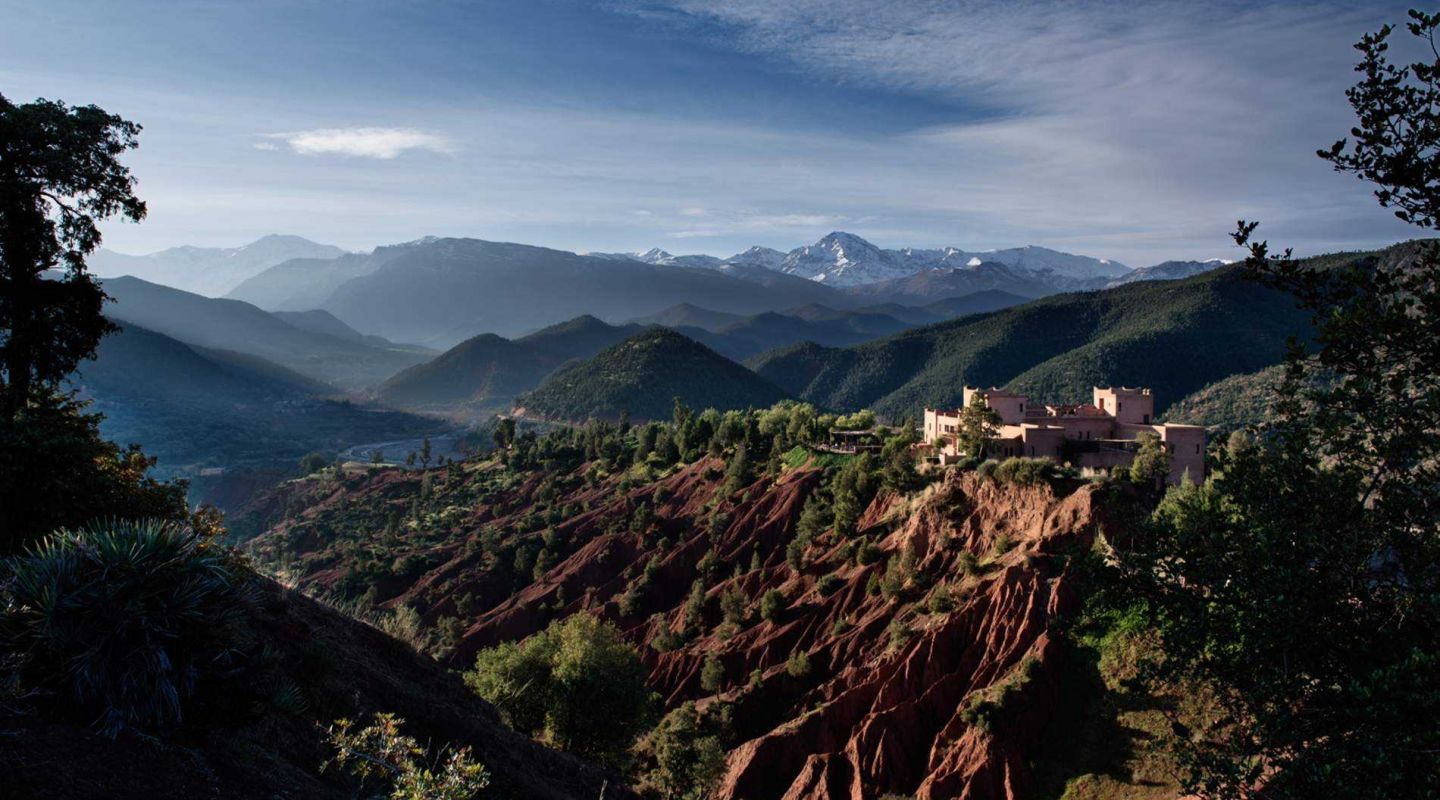 22-26th November
The Retreat at Kasbah Bab Ourika for Carissa and the Custodians
Overview
Atlas views and local culture
From its hilltop looking down an ochre river valley dotted with green groves and Berber villages to the snowcapped Atlas Mountains beyond, the Kasbah Bab Ourika's views are reason enough to visit.
While the main property's 27 rooms are split between the Kasbah itself and garden rooms, The Retreat is a completely private affair at the edge of Toubkal National Park enjoying the same vistas. Similarly constructed from rammed earth using an aged-old local technique, chicly decorated with Moroccan crafts, and staffed by people from the local area, it feels very much of its place.
A fabulous spot to escape the energy of Marrakesh, relax in the extensive gardens, read in the fire-warmed lounge or watch the sunset from the infinity pool. Meals are served in the gardens or in the colonnaded restaurant by a chef who specialises in traditional Berber recipes as well as international cuisine.
Facts
At a glance
11 rooms

Private dining area and chef

Swimming pool

Spa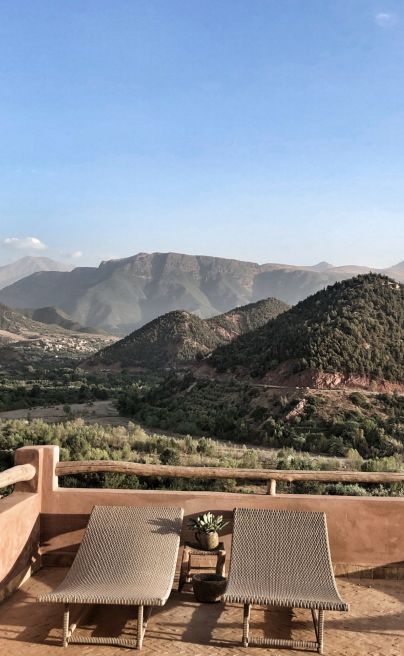 Experiences
Berber culture

Visit local villages with a guide to learn more about life in the mountains and Berber culture, from collecting herbs to make a cup of traditional tea to artisan ceramic workshops and organic farms.

Hammam treatments

Experience one of the oldest traditions of the eastern culture and discover the Kasbah's traditional hammam and organic treatments. The hammam's steam bath helps one eliminates stress, toxins and impurities by sweating.

Camel trekking

Head out on camelback through local villages and along river valleys.

Marrakesh day trips

Under an hour away by road, explore Marrakesh's iconic medina and enjoy the delights of the famous Jemaa el-Fnaa is a square and marketplace, bustling souks and local monuments.


Trekking

In addition to easy walks and picnics locally, you can explore the region and Toubkal National Park on longer treks. With a mountain guide to lead you, pass through remote villages, forests, dramatic valleys, waterfalls and more.
Your itinerary
22nd November
On arrival at Marrakesh Menara Airport, you will be met for a VIP service through immigration before being driven in a private vehicle (three Range Rovers and drivers will be at your disposal for the trip) to the mesmerizing Atlas Mountains and the private Retreat at the Kasbah Bab Ourika. Get acquainted with the property, its views, and its beautiful garden before dinner.
23rd November
Today is at leisure, perhaps enjoying some of Bab Ourika's activities learning about the local Berber culture.
24th November
And now for a challenge. At 4,167m, Mount Toubkal is the highest peak in North Africa. You'll be heading up to a refuge at 3,207m on a non-technical hike that still requires a degree of fitness and determination. In November, there's a chance of snow above 3,000m so crampons and ice axes may be used.
The trail starts from Imlil (1,740m), a pretty village near Kasbah Bab Ourika surrounded by walnut groves, apple trees and bisected by a rushing river. From here it is a 4 hour uphill walk via the shrine of Idi Chamharouch (2,350m). If the trail is busy at that period, you can opt for a more scenic approach via the neighbouring Azzaden Valley.
Your guide for the day is Nacer Ibn Abdeljalil, a former Wall Street financial analyst turned adventurer and speaker. He is renowned for being the first Moroccan to have summited Mount Everest and, in 2015, to reach the North Pole.
25th November
Today is yours to spend as you see fit – we suggest a little indulgent in the Hammam spa.
26th November
You'll be driven back to Marrakesh's airport in time for your onward flights.
Community & Culture
From the outset, the Kasbah provided essential training to ensure that the majority of staff are from the nearby villages. This policy has been successful, and Bab Ourika is now one of the largest employers in the valley. This also ensures that the kasbah is integrated into the local community for an authentic experience of the place.
In addition, the Kasbah has tried to show its commitment to the local douar (community) by instigating various initiatives and actively participating. The Kasbah sponsored the creation of extra water storage to provide running water to the houses in the village below. The local government provided pumps and funds to complete this water distribution.
Footprint
The Kasbah is one of the most eco-friendly buildings in Morocco. Constructed principally from pise (rammed earth), the traditional Berber building technique, it blends easily with the rock and earth around it.
Thick walls provide natural insulation in summer and winter to ensure a balanced temperature. The Kasbah uses solar panels to heat the building and the domestic water supply. There are plans to install additional panels to start generating all the property's own electricity. All greywater at the kasbah is recycled and used in the garden.
The Kasbah is keen to implement other traditional environmental initiatives. There are plans to install additional panels to start generating all the property's own electricity and to build a prototype biodigester unit to use waste products of the Kasbah to produce electricity, gas and fine quality compost for the gardens. It is hoped that if this project is a success, it will have applications all over the Berber villages in the High Atlas.
Example trips
Get inspired
Browse our example trips and get in contact to start planning your very own adventure.
What makes us different
Why Niarra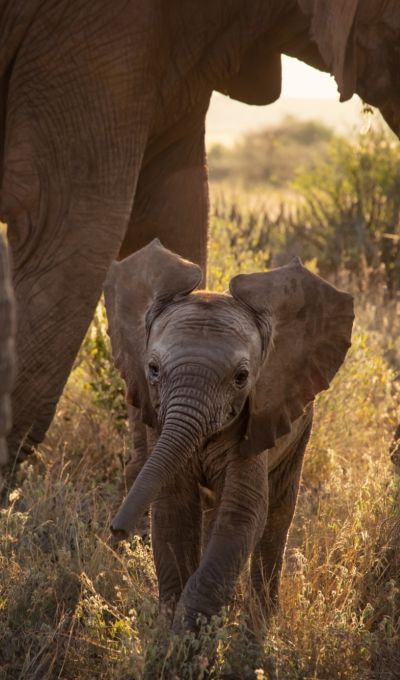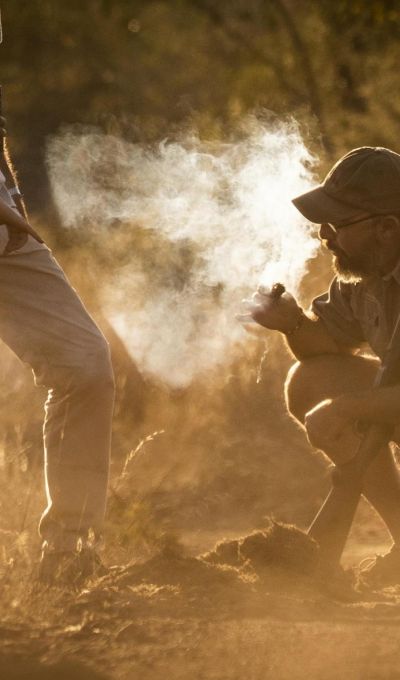 Niarra Travel is a forward-thinking travel company headquartered in London born out of a passion to do things differently.
In Swahili, a Bantu language spoken by millions in Eastern, Central and Southern Africa, the name Niara means "with utmost purpose" and our team are united by a passion for exploration and a belief that the right kind of travel can make the world a better place.
Our Travel Researchers are here to create incredible trips with a positive impact for you.
Unforgettable experiences

Creating your trip is entirely collaborative and our Travel Researchers are here for every step.

Positive impact

Curated sustainable experiences and accommodation that maximize the benefits to local people and place.

Fairness and transparency

An open, competitive pricing structure that ensures more money goes to where it's needed in the destination.