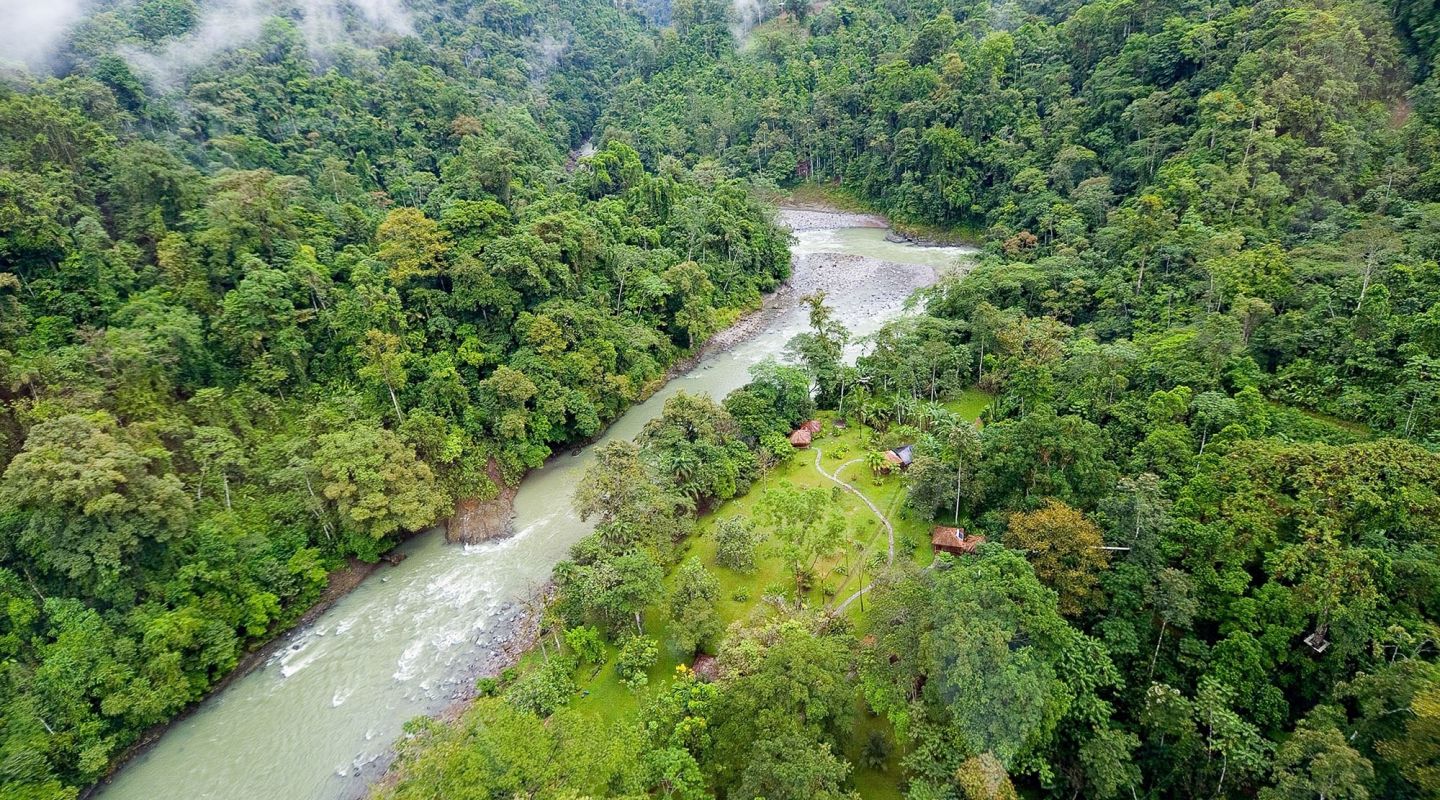 Overview
Adventure and luxury in the rainforest
Nestled on the banks of the Pacuare River, you'll find this beautiful lodge surrounded by 10,000 hectares of protected Costa Rican rainforest. With jaguars, monkeys, sloths and a myriad birds in close proximity, your stay here offers you unique wildlife viewing opportunities.
The thatched bungalows are raised and seem to blend with the canopy, while their interiors are all about comfort and convenience. When you're not luxuriating in your suite or villa, there is plenty to keep you active in the region, including thrilling white-water rafting in the Pacuare, hiking through the jungle, going on breathtaking canopy tours and exhilarating canyoning.
The main lodge and bungalows were not built using the area's protected trees, but rather, lumber was sourced from a local reforestation project. The thatched roofs were built from palm leaves by local Cabécar Indians in their traditional style.
As a telling insight into Pacuare's ethos, 20 years ago owner Roberto Fernandez hired his first staff member by finding the best poacher in a local village. That former poacher is now the lodge's canopy tour supervisor and in addition to building and maintaining the course, he guides visitors. Almost all of the staff come from local villages.
Facts
At a glance
Seven suites and nine villas

Infinity pool and private plunge pools

Spa and gym

Unique dining experiences using locally sourced ingredients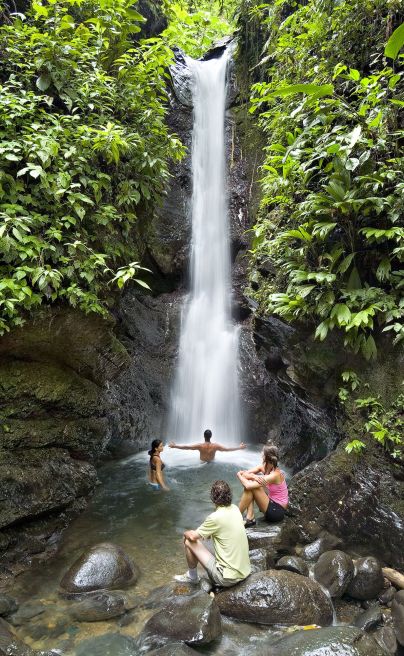 Experiences
White-water rafting and canyoning

Experience the thrill of white-water rafting in deep canyons, or spend a few hours canyoning surrounded by gorgeous scenery and rich wildlife.


Canopy adventure

Discover the lush jungle canopy from a unique vantage point on canopy tours or zip lining through the tree tops.


Trails and hidden waterfall hike

Join a naturalist guide for shorter hike inside Pacuare Lodge's private reserve or traverse more challenging trails on longer routes in search of widlife.

Bird watching

Costa Rica is home to around 850 species of birds. Spend an hour and a half with a resident ornithologist discovering the bright coloured macaws and elusive nocturnal birds. Your guide will be able to tell you all about the fascinating birdlife here.


Cabécar culture

The Talamanca Mountains are host to the Cabécar, the largest indigenous group in Costa Rica, and one that retains many of its traditional customs and beliefs. The trail offers a wonderful opportunity to discover many secrets of the forest, interact with the ecosystem, and hike the same trails the Cabécar have for centuries.
Community & Culture
Because the area in which the lodge stands is largely inaccessible, it has been poorly maintained by official bodies. The lodge's Community Support Programme helps to enhance the living standards of people living along the Pacuare River.
Pacuare also supports local schools by raising funds to buy stationary and run sports and social programmes. It has also repaired the cable car service which residents use to cross the river.
Working with indigenous leaders, the lodge has set up the Cultural Rescue Committee which focuses on keeping the Cabécar cultural values alive. You can spend time visiting with Cabécar families in the Nairi Awari Reserve.
Conservation
The lodge is actively involved in the study of the endangered jaguar, and it has supported a team led by jaguar expert Dr Eduardo Carillo. The team at the lodge also continuously engages neighbouring communities to get involved in various conservation efforts. Whereas once people in the area relied on hunting and deforestation for their livelihoods, Pacuare has helped to create sustainable sources of income that do not harm the environment. Previously wiped out by hunters, howler monkeys have been reintroduced to the reserve.
Footprint
The environmental impact is kept as small as possible. A majority of the produce used at the lodge is grown at Pacuare's own organic farm about an hour away, while meat and fish are sourced locally. Food waste is fed to the pigs and then methane is used to generate electricity. The lodge also makes use of solar power, and there is no electricity in the bungalows.
Example trips
Get inspired
Browse our example trips and get in contact to start planning your very own adventure.
Example trips

Get inspired

Browse our example trips and get in contact to start planning your very own adventure.
What makes us different
Why Niarra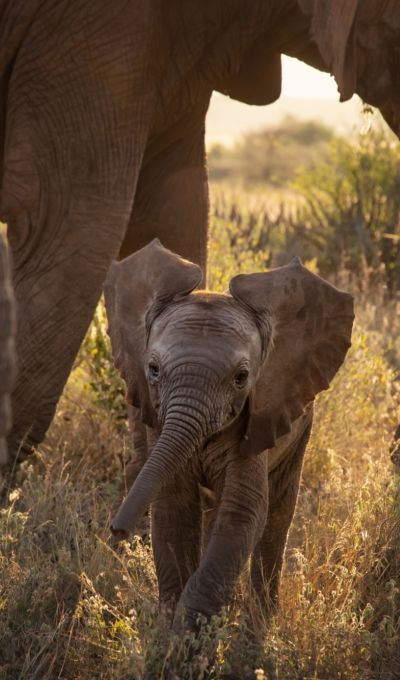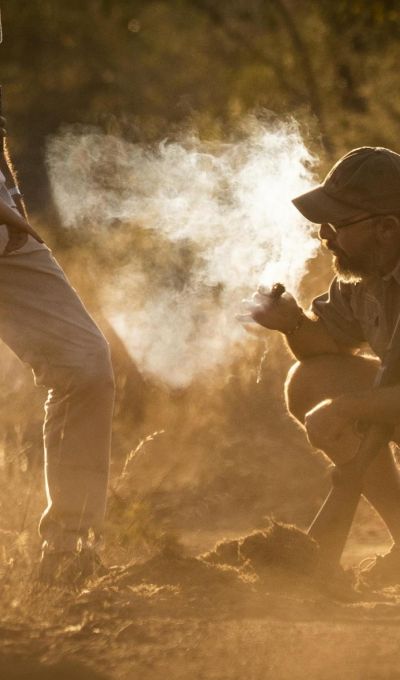 Niarra Travel is a forward-thinking travel company headquartered in London born out of a passion to do things differently.
In Swahili, a Bantu language spoken by millions in Eastern, Central and Southern Africa, the name Niara means "with utmost purpose" and our team are united by a passion for exploration and a belief that the right kind of travel can make the world a better place.
Our Travel Researchers are here to create incredible trips with a positive impact for you.
Unforgettable experiences

Creating your trip is entirely collaborative and our Travel Researchers are here for every step.

Positive impact

Curated sustainable experiences and accommodation that maximize the benefits to local people and place.

Fairness and transparency

An open, competitive pricing structure that ensures more money goes to where it's needed in the destination.