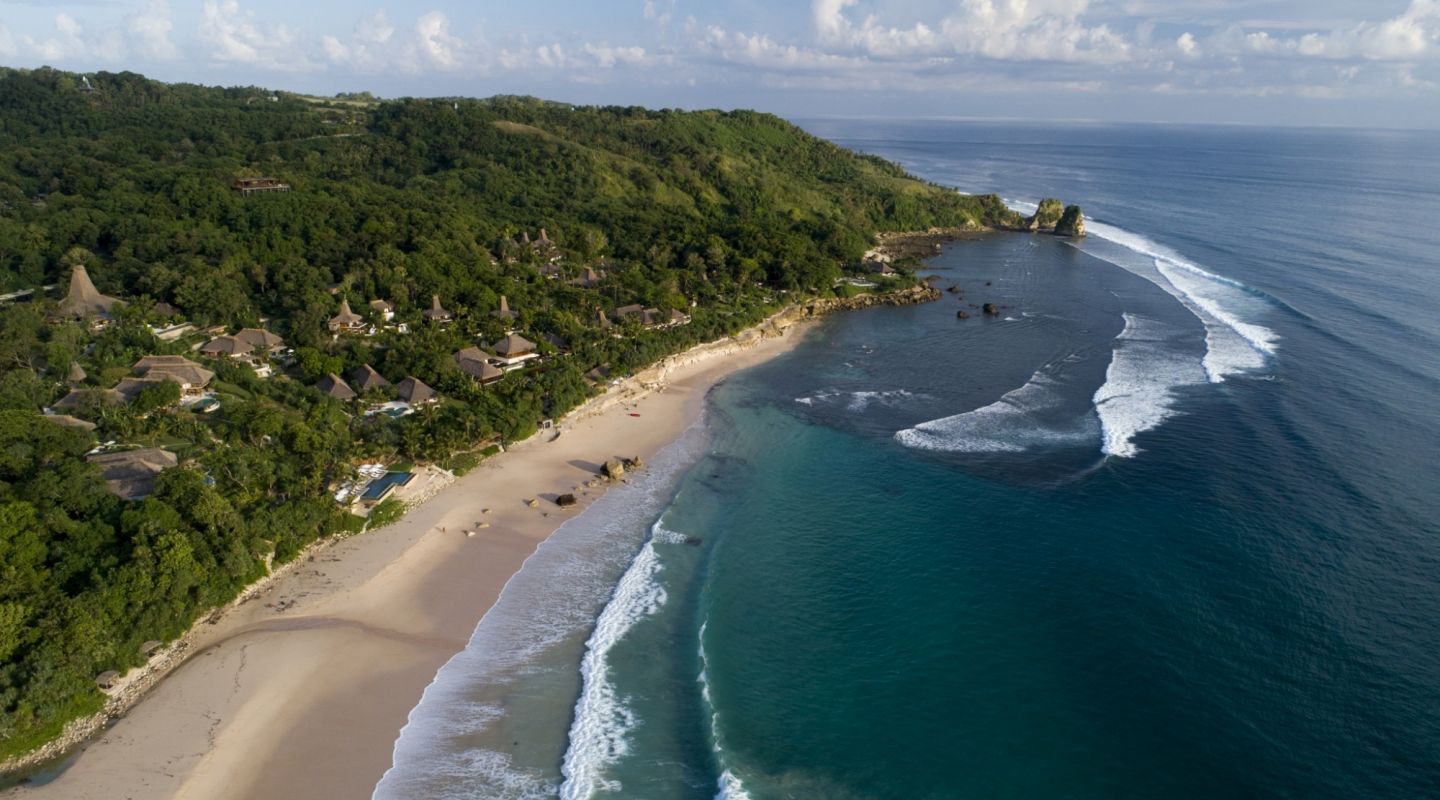 Overview
Beach chic at its best
With a glorious golden beach on one side and lush tropical jungle on the other, the remote NIHI Sumba offers you a true 'edge of wilderness' experience on the rarely visited island of Sumba.
A stay here is all about a relaxed, beach-chic mindset with a strong emphasis on sustainability, community and wellness that really immerse you into the experience of this very special place. While the service, cuisine and villas are all fabulous, it's the unique vibe of Nihi, stretching back to its time as an off-grid surf spot, that sees it rank as one of the best hotels in the world.
The 28 villas tucked into the jungle along the shore are inspired by Sumbanese architecture and culture. Varying in size and feel, open lounges and huge windows allow for plenty of natural light. All of them boast stunning ocean views, large terraces and private infinity pools. There are no televisions in the room, giving you room to completely unwind and drink in your surroundings.
Facts
At a glance
28 villas with between one and five bedrooms

Hilltop spa

Three restaurants and chic beach bar

Private beach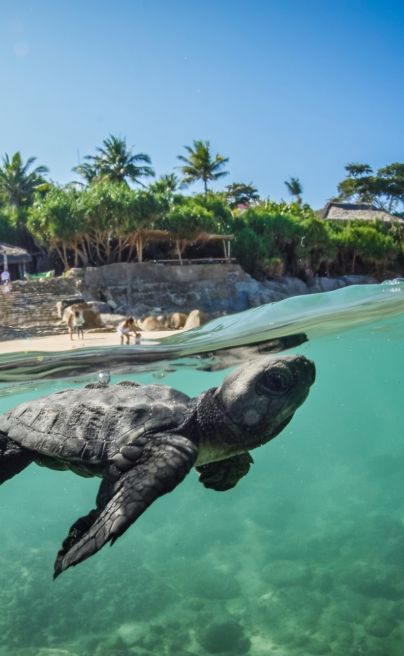 Experiences
Horse riding

Horses are the soul of Sumba. NIHI's exceptional equestrian facility, Sandalwood Stables, offers the perfect vacation for horse lovers. Trail rides include the beach at sunset, a beach-to-bush outing through local villages, select day trips and a visit to neighboring Coconut Cove for a gallop through calm waves.

Water activities

Set beachside, there are a wide variety of water-based activities you can fill your days with. Try surfing (the original reason for NIHI's foundation), kite surfing and stand-up paddle boarding.

Spa safari

Tailored to indulge each one of your senses, the Nihioka Spa Safari is a unique experience not to be missed. The day begins just after sunrise with trek through rolling hills, expansive rice fields and a traditional Sumbanese village with a private breakfast and ocean swim before diving into a selection of sumptuous treatments.

Land-based exploration

The area around NIHI Sumba is perfect for exploring either on foot or by bicycle. The Sumba expedition takes you to traditional villages, through rice fields and to impressive waterfalls. Explore the Lamboya highlands, go mountain biking, or trek down into the Nihioka Valley.

Snorkelling

Discover a vibrant underwater world by snorkel with spearfishing on offer for those who want to try their hand at catching their dinner.

Cultural activities

NIHI Sumba has strong links to the local communities and if you're interested you can spend some time going on cultural excursions. Learn about ikat weaving, plant remedies, go on a market and art shop tour or visit the Sumba Foundation and find out about the various projects they are running across the island.

Culinary experiences

Your stay at NIHI Sumba is bound to be a delicious one when it comes to indulgent meals, but you also have a chance to take your new-found love of Indonesian cuisine a step further with a cooking class in which you'll learn to prepare some of the local favourites. You can also sign up for a mixology class, a Japanese cooking lesson and visit the chocolate factory.
Community & Culture
Together with the Sumba Foundation, NIHI Sumba assists with various health-related projects. The foundation runs four clinics, has a malaria training centre and offers nutrition classes at 15 schools. They are also building a new school. About 98% of Nihi Sumba's workforce comes from nearby villages.
One of the things the resort prides itself on is sharing the local customs and history with guests. You'll be given tips on how to make the most of your stay culturally and how best to ensure the environment is treated with respect.
Dotted around the villa gardens you may spot some ancient stone sculptures which have been placed here to protect them.
Conservation
There are various practices in place to reduce, reuse and recycle resources. They use water cooler stations and there are no plastic straws or water bottles. Food waste makes its way back to the organic gardens as fertilizer, and only non-toxic cleaning products are used on site.
Energy conservation is also important and lights are not left on unnecessarily and laundry is line-dried. Water is Sumba's most valuable commodity and its conservation is very important. NIHI Sumba gets water from four of their own wells, and once used, it is recycled and used in the gardens. They also have a reversed osmosis water plant which allows them to convert sea water into potable water.
Footprint
Electricity is sourced from a hydro electrical power plant near to the resort, and the generators and diesel cars use biofuels.
Example trips
Get inspired
Browse our example trips and get in contact to start planning your very own adventure.
Example trips

Get inspired

Browse our example trips and get in contact to start planning your very own adventure.
What makes us different
Why Niarra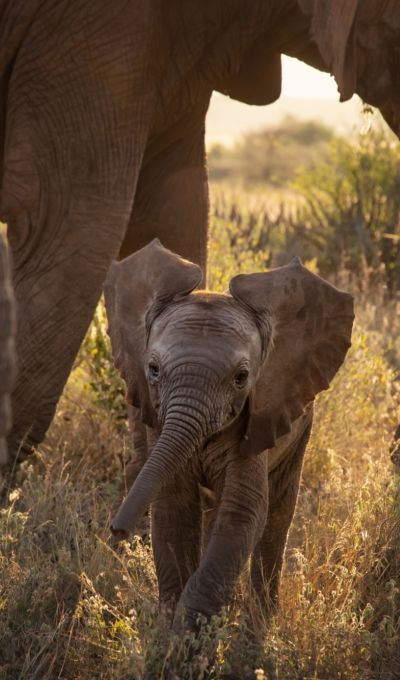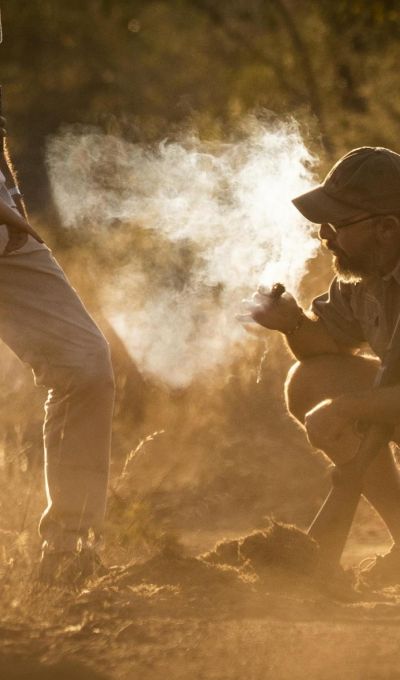 Niarra Travel is a forward-thinking travel company headquartered in London born out of a passion to do things differently.
In Swahili, a Bantu language spoken by millions in Eastern, Central and Southern Africa, the name Niara means "with utmost purpose" and our team are united by a passion for exploration and a belief that the right kind of travel can make the world a better place.
Our Travel Researchers are here to create incredible trips with a positive impact for you.
Unforgettable experiences

Creating your trip is entirely collaborative and our Travel Researchers are here for every step.

Positive impact

Curated sustainable experiences and accommodation that maximize the benefits to local people and place.

Fairness and transparency

An open, competitive pricing structure that ensures more money goes to where it's needed in the destination.