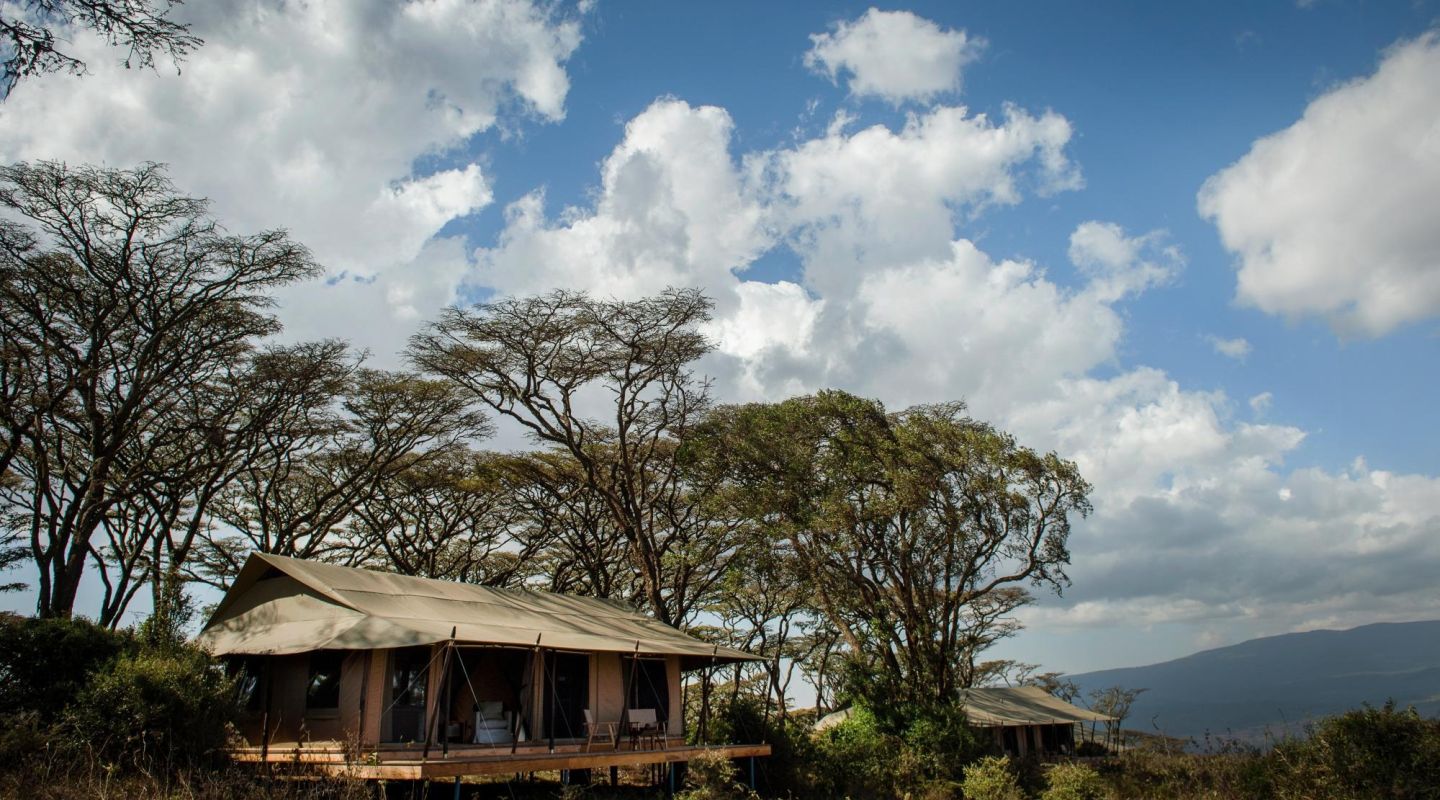 Ngorongoro Crater
Entamanu Ngorongoro
Overview
The Crater away from the crowds
Entamanu Ngorongoro is perched high on the wild northwestern edge side of the crater's rim, surrounded by dormant volcanic hills and the ebb and flow of pastoralist Maasai life.
Seven large en-suite tents – two of which are connected as a family unit with a shared bathroom – are made cosy with heaters, warm textiles and sheepskin look across the iconic Crater view, with a backdrop of ancient acacia trees. Each is a sanctuary from the hot high-altitude sun and cold nights.
Offering an unspoiled experience of the Ngorongoro area, and a genuine insight into the land and culture that surrounds it, this is a great spot to combine game drives down to the crater floor with hikes and meeting the Maasai.
Facts
At a glance
Seven tents

Including interconnected family unit

Lounge and dining space

Crater views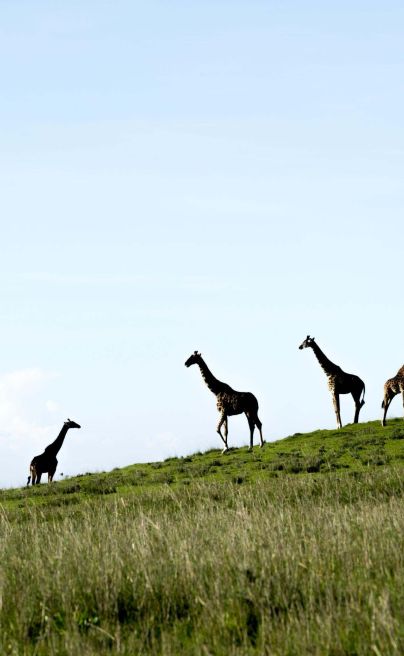 Experiences
Game drives

A big highlight of any stay here, the Ngorongoro Crater is one of Africa's most iconic wildlife destinations. An early start is highly recommended to enjoy the Crater before the majority of visitors make it in from other camps. Or head out in the afternoon and enjoy sundowners on the rim on your way back to camp.

Walks

Entamanu Ngorongoro offers guided walks along the rim of the Crater and in the surrounding highlands. You will head out with your guide and a member of the local Maasai community and learn all about medicinal plants, Maasai beliefs, as well as track any local wildlife that has wondered close to camp.

Boma visits

You may be able to visit the camp's Maasai neighbours, who are living a largely traditional life in the boma in the next valley, and still grazing their cattle in the conservation area. Expect a warm welcome, with insights into the pastoral life, from building huts to warrior ceremonies.

Community & Culture
Nomad was founded on the belief that to make a meaningful contribution to the conservation of wildlife, the needs of people must also be considered, making sure that it is they feel the benefit from keeping wild places safe. Nomad uses their reach and logistics – planes, cars, camps and teams – to reach deep into some of the most remote parts of Tanzania with health and education outreach.
Entamanu Ngorongoro has close ties with a nearby Maasai boma where Nomad are working to give them the support they need to invest in sustainable livelihoods and most importantly educate their little ones. This small boma and community is supported solely by the Nomad Trust and guests who visit Entamanu Ngorongoro. Their current focus is to improve the conditions in the nursery centre at the boma and give them some basic resources to boost their mini early learning program.
Entamanu Ngorongor also supports The Tanzanian Childrens' Fund (TFC) is a home to 97 vulnerable and marginalised children in The Rift Valley. These children are either orphaned, or come from families who are unable to support them. TCF offers them a safe place to call home, where they can go to school, as well as learn vocational skills which will hopefully stand them in good stead for the future. Rather than simply providing a home for the children, TCF also works to address the underlying issues in the community and runs social welfare and health programs, as well as projects that fund micro-finance womens' groups.
Conservation
Human wildlife conflict is a huge challenge across Africa and it is an issue particularly prevalent between the Maasai and lions who find an easy target in their livestock – the Maasai's primary source of wealth and income. KopeLion was founded in 2011 to address the issues in the area around the Ngorongoro Crater, employing former lion hunters and equipping them with the skills needed to actively protect the remaining lions and reduce conflicts with their local communities and villages.
Nomad supports their local 'ilkuchuti' (lion guardian) called Rumas, who works in the area around Entamanu Ngorongoro. Rumas role involves moving around the community to the local boma's and villages to report on any lion conflict, or lion sightings so that the team at KopeLion can intervene if necessary. He also educates these communities on the value of protecting the lion population, and most importantly on ways in which they can protect their livestock better without having to take extreme measures.
Footprint
Like all Nomad Camps, Entamanu Ngorongoro has an extremely light footprint with no permanent infrastructure leaving a mark on the landscape. Plastic has been eliminated where possible with recycling and waste disposal managed responsibly, and water usage is extremely efficient.
Example trips
Get inspired
Browse our example trips and get in contact to start planning your very own adventure.
What makes us different
Why Niarra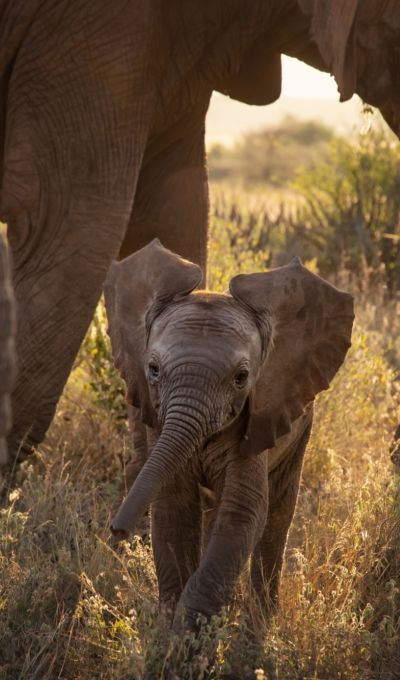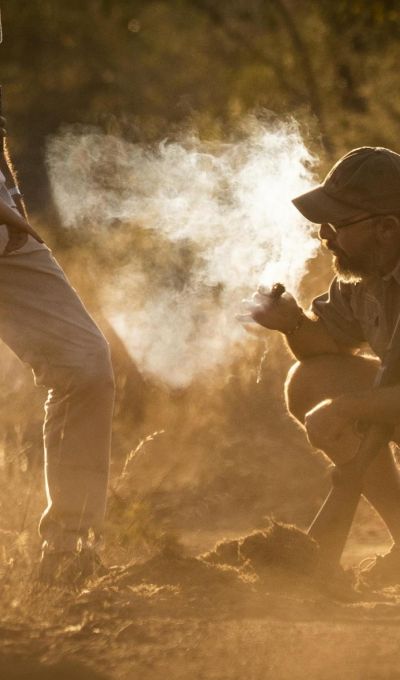 Niarra Travel is a forward-thinking travel company headquartered in London born out of a passion to do things differently.
In Swahili, a Bantu language spoken by millions in Eastern, Central and Southern Africa, the name Niara means "with utmost purpose" and our team are united by a passion for exploration and a belief that the right kind of travel can make the world a better place.
Our Travel Researchers are here to create incredible trips with a positive impact for you.
Unforgettable experiences

Creating your trip is entirely collaborative and our Travel Researchers are here for every step.

Positive impact

Curated sustainable experiences and accommodation that maximize the benefits to local people and place.

Fairness and transparency

An open, competitive pricing structure that ensures more money goes to where it's needed in the destination.