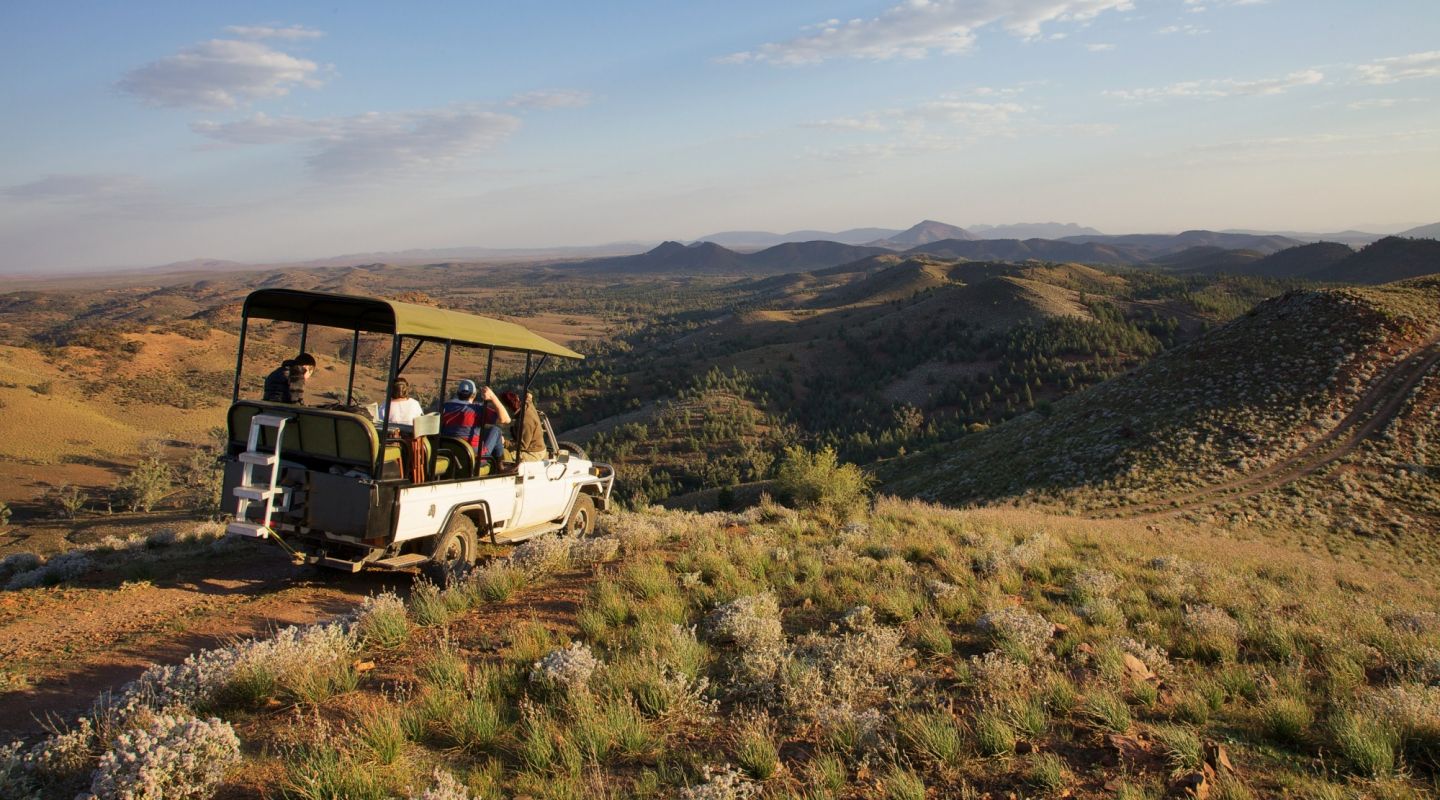 Overview
Rewilding the outback
Five hours north of Adelaide by road, surrounded by the rugged Flinders Range, Arkaba's 24,000-hectare outback conservancy and historic homestead make for one of Australia's most exclusive properties. It's also the setting a pioneering rewilding project.
The beautifully restored homestead dates back to the 1850s, with its four bedrooms blending original character with chic contemporary touches. A coachmen's cottage provides a more private setting for honeymooners. The experience is outstanding yet still down-to-earth.
Outside find an ancient landscape of red rock mountains, green valleys, cypress pines and river red gums where kangaroos, emus and colonies of yellow-footed rock wallaby roam free alongside some 300 bird species and endemic plant life. During a stay, explore the reserve on game drives and nature walks with expert guides, learn about the indigenous Adnamatna culture from an elder and see conservation in action as the team here restore the landscape after 150 years of livestock grazing.
Facts
At a glance
Five rooms

Swimming pool

Hosted dinners with field guides

Library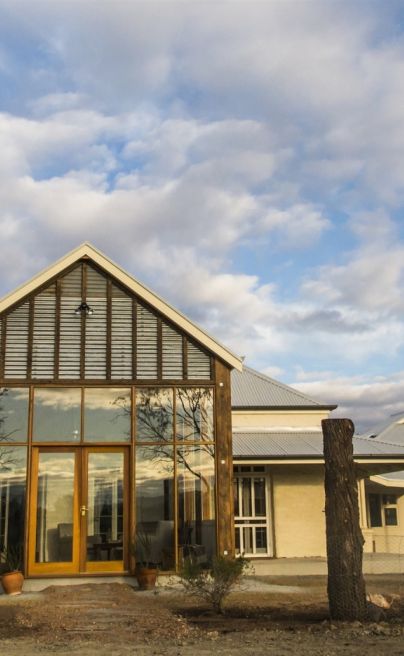 Experiences
Game drives

Get an Australian take on safari as you explore the vastness of Arkaba's private conservancy on an open-top 4WD safari. High ranges, plateaus, gorges, valleys and creek lines provide a huge variety of habitat for wildlife and on any given day a game drive will reveal Arkaba's hidden treasures.

Walking safaris

Get a more intimate perspective of Arkaba's magnificent wilderness on an included walking safari. Expert field guides pull together the incredible geological history, wildlife and pastoral heritage of this region that will deepen your connection with the land.

Conservation

Learn about the challenges Australia faces in saving its biodiversity and join one of Arkaba's field guides on conservation activities for an enhanced the wilderness experience with impact.

Aboriginal insights

The indigenous Adnyamathanha people come from tens of thousands of years as an oral culture which has made them wonderful story tellers. Meet Pauline, a living library of her ancient Adnyamathanha lifestyle, getting an insight into her connection with the land that emanates from long before any European explorers or settlers appeared.

Wildlife hide

Take a spot of morning or afternoon tea as you admire wildlife behaving naturally in the wild just three meters away from you at eye level.

Birding

There are around 300 bird species to be seen on Arkaba, from marauding emus, Australia's largest flightless bird, to wedgie-tailed eagles and the tiny Horsfield's bronze cuckoo perched in the trees. We can arrange for private experiences with ornithologists who specialize in this region.
Community & Culture
Arkaba works with up to 50 local businesses, from commissioning local artists to exclusively sourcing food and wine from South Australian producers and employing local service providers in nearby remote rural communities.
Interpretive walks hosted by an Adnyamathanha Aboriginal elder reveal a history that spans tens of thousands of years. Additionally 150 years of pioneering settlement history is conserved in the 1851 Arkaba homestead and woolshed. Both buildings have been lovingly restored, complete with interior décor and artwork by renowned local wildlife illustrator, Rosemary Woodford-Ganf. Arkaba Homestead's traditional English style garden has recently been replaced with a landscape designed to take travellers back to the regions indigenous roots.
Conservation
The Arkaba Conservancy offers a symbiotic partnership between tourism and conservation to restore and preserve this ecologically significant Australian landscape, with conservation programs reversing the effects of 150 years of livestock grazing, restoring the natural habitat and protecting rare and endangered species on one of Australia's most beautiful rural properties.
Since 2013 over 3000 feral goats and hundreds of foxes and feral cats have been removed and the rabbit population has been greatly reduced. This has eased the destruction of native vegetation and, in turn, the competitive grazing pressure on native animals.
The results are exciting, with the re-establishment of two flourishing colonies of near-threatened yellow-footed rock wallabies, the sighting of a hitherto regionally extinct brush-tailed possum and a western quoll – locally extinct in South Australia for 100 years. Ground-dwelling birds have seen a marked resurgence, with a dramatic increase in fledgling survival rates. The removal of sheep has also seen native plant species re-establish themselves.
Footprint
Arkaba has adopted a 'buy local' principle and our head chef uses the very best of South Australia's produce to craft the food program with a few native elements to add a unique intrigue and interest.
Each aspect of Arkaba's tourism offering, from energy usage to waste disposal, choice of linen, recycling of bottles and the use of eco-certified cleaning materials have been carefully planned to minimize impact on the land.
Example trips
Get inspired
Browse our example trips and get in contact to start planning your very own adventure.
Example trips

Get inspired

Browse our example trips and get in contact to start planning your very own adventure.
What makes us different
Why Niarra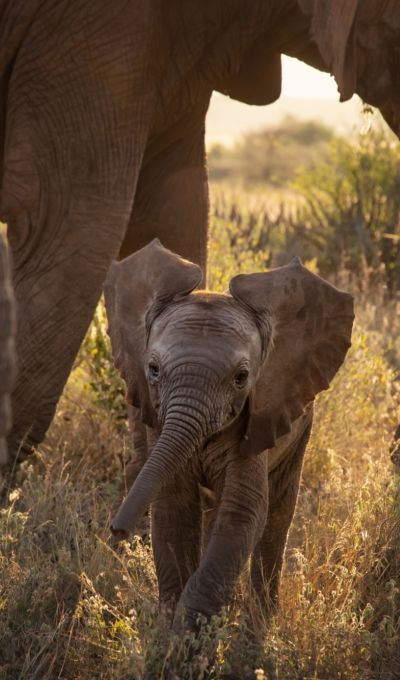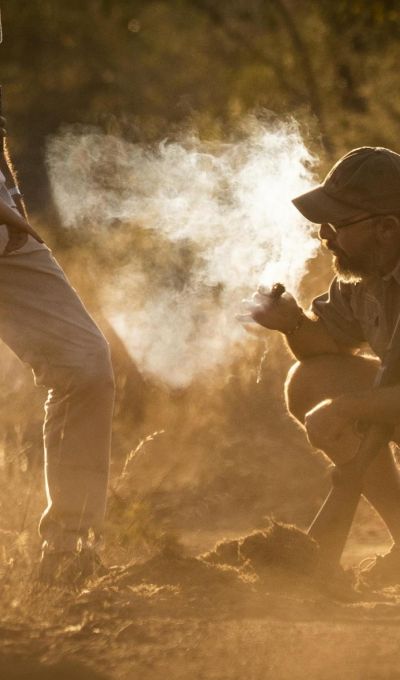 Niarra Travel is a forward-thinking travel company headquartered in London born out of a passion to do things differently.
In Swahili, a Bantu language spoken by millions in Eastern, Central and Southern Africa, the name Niara means "with utmost purpose" and our team are united by a passion for exploration and a belief that the right kind of travel can make the world a better place.
Our Travel Researchers are here to create incredible trips with a positive impact for you.
Unforgettable experiences

Creating your trip is entirely collaborative and our Travel Researchers are here for every step.

Positive impact

Curated sustainable experiences and accommodation that maximize the benefits to local people and place.

Fairness and transparency

An open, competitive pricing structure that ensures more money goes to where it's needed in the destination.